China's yuan plunges again. Is a currency war coming?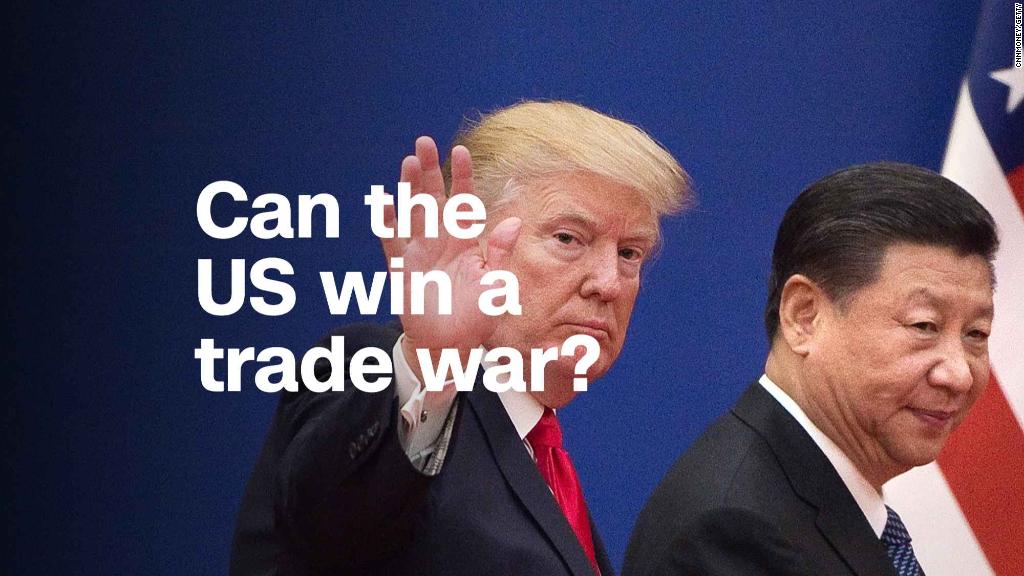 China's currency is plunging again. But how low will it go?
The yuan weakened almost 1% against the US dollar on Thursday to hit its lowest level in a year. It has now fallen by nearly 8% over the past three months amid a global trade spat and concerns over an economic slowdown in China.
Analysts said the yuan's latest dip came after China's central bank indicated that it was willing to accept a weaker currency.
A sliding currency could help China's huge export industry cope with new US tariffs, as it makes Chinese products cheaper for buyers who pay in dollars. That could in turn boost an economy that posted its slowest growth rate in nearly two years — 6.7% — in the second quarter.
Unlike the dollar or euro, the yuan does not float freely against other currencies. Instead, China's central bank helps guide the currency by setting a daily trading range. On Thursday, it surprised investors by guiding the yuan lower.
Ken Cheung, a currency analyst at investment bank Mizuho, said the move implied that the central bank would tolerate a weaker currency in order to support the economy.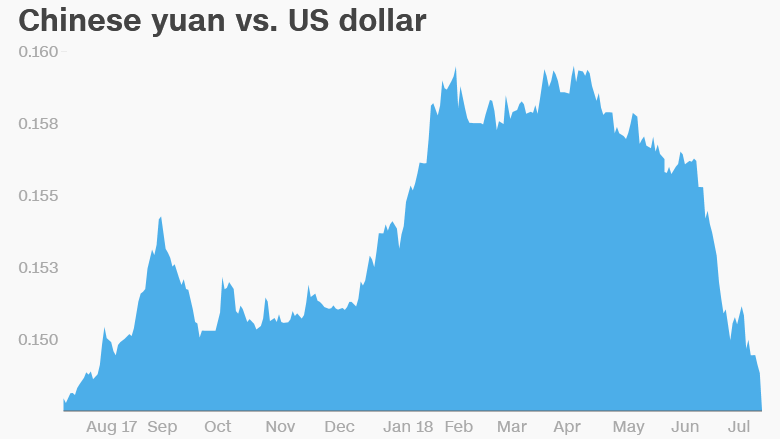 There could be costs, however. A weaker yuan risks increasing trade tensions with the Trump administration, which has repeatedly accused China of keeping its currency artificially low to support its huge export industry.
Analysts say it's unlikely that China would use the weaker yuan as a weapon in the trade war. They point to the chaos caused in Chinese and global markets by sharp falls in the currency in 2015 and early 2016.
But trade tensions are escalating anyway. The United States and China have slapped tariffs on billions of dollars of each other's goods, and President Donald Trump is threatening to strike again at even more Chinese exports.
There are other factors weighing on the yuan. Given the strength of the US economy, the Federal Reserve is expected to keep raising interest rates. That makes it more attractive for investors to hold US dollars, prompting them to sell other currencies.
"Gravity is doing its job again as monetary policy diverges further between the United States and China," said Margaret Yang, an analyst at investment firm CMC Markets.
The question is how much further the yuan may fall.
Qi Gao, a currency analyst at Scotia Bank, expects the currency to weaken another 2% against the dollar. That would be when it would feel compelled to halt the yuan's descent, he added.
It's a careful balancing act for policymakers.
If the yuan falls too quickly, it could prompt money to flood out of China as investors lose confidence and seek to exchange it for assets in dollars and other currencies.
"Chinese authorities will likely prevent the currency from moving too sharply in any direction," said Hannah Anderson, global market strategist at JPMorgan Asset Management.
Source: Read Full Article