The companies poised to gain as the dollar falls
There are two types of currency forecasters: those who are wrong, and those who are about to be proven wrong. Such is the market for currencies – and for most financial assets – that the curious and ever-changing mix of fundamental factors and raw human emotion make it very tough.
The problem is that reality doesn't follow models: just ask those who predicted that US quantitative easing (money printing) would cause hyperinflation or those who just knew China was going to have a hard landing, years ago. And don't mention the "house price crash" brigade who are going on a decade of being wrong. I don't doubt they were earnest. Indeed, it's very possible their views were deeply grounded in defensible theory. They were just, well, wrong.
So I'm not going to join their ranks by trying to tell you where the Australian dollar is going next. But here's a hypothesis: rising US interest rates, relative to the Reserve Bank's cash rate, should see the US dollar stronger against the Aussie dollar, meaning $1 will buy fewer US cents. Or, put another way, a US dollar will buy more Australian cents.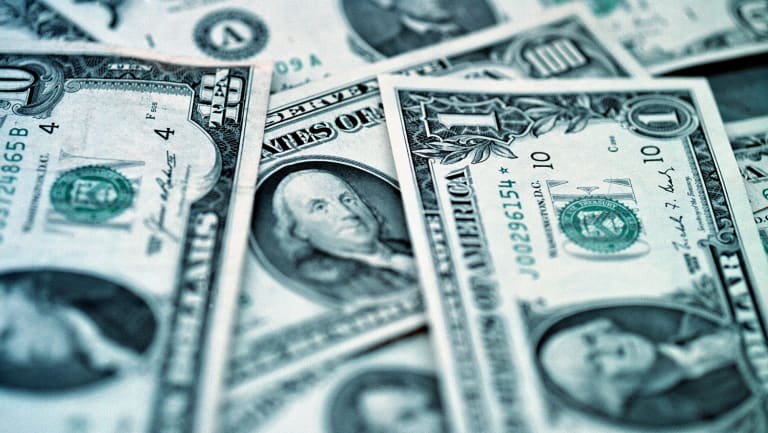 The Australian dollar might fall against the greeback.
I'm not going to bet on it, especially after demonstrating what happens to those who try, but I'm going to suggest there are ways of benefiting from a falling Aussie, if it happens, without taking on the binary bet that, if it doesn't, you're necessarily out of pocket.
How? By buying quality companies with a good chunk of earnings in US dollars. If the Aussie doesn't fall, you get the benefit of owning those companies' shares. And if it does, you get that, plus a foreign exchange kicker. (Yes, it can go against you if the Aussie dollar rises, so this isn't a free lunch – but if you're a long-term investor and you like the company anyway, you can afford to wait it out if the currency unduly rises.)
Here are five companies you should consider.
Vanguard MSCI Index International Shares ETF (ASX:VGS)
BetaShares NASDAQ 100 ETF (ASX: NDQ)
Did I say companies? The first two ideas are actually exchange-traded funds. The Vanguard International ETF gives you exposure to the largest companies in the developed world, with a heavy emphasis on the US. The second, to the largest non-financial companies on the tech-heavy NASDAQ stock exchange. These two securities are providing Australian investors will access to companies that are the cream of the international crop, replete with almost entirely overseas (read: non-Australian dollar) earnings.
CSL (ASX:CSL)
CSL might just be the very definition of blue-chip overseas earnings, such is its reputation for excellence and growth. The immunology and blood products business is an under-followed world-beater that derives much of its earnings from overseas, in particular the US.
Integrated Research (ASX: IRI)
Not only does this little Australian software company get most of its revenue outside Australia, but the bulk of its costs are incurred here – the perfect mix when it comes to spending our dollars, but getting greenbacks in return.
ResMed (ASX: RMD)
The maker of sleep apnoea machines gets more than half of its revenue from the US alone, and another chunk from other overseas markets. And it's a good bet much of its future growth will come from offshore, too.
Foolish takeaway
The important thing is to find investments that you'd want to own, even if there was no currency benefit. That way, you're hopefully getting strong returns from the businesses themselves, with an extra kick from the dollar's fall, if it happens. And you're getting diversification, to boot.
Scott Phillips is the Motley Fool's general manager.
Source: Read Full Article