IFM chief 'more than happy' to face scrutiny over conflict queries
As the royal commission turns its focus to superannuation, a $107 billion asset manager owned by industry super funds says it welcomes scrutiny from its role as money manager for the funds that own it.
IFM Investors chief executive Brett Himbury on Monday played down potential questions over conflicts of interest in the global fund manager's model, and said the focus should instead be on returns it delivers for members.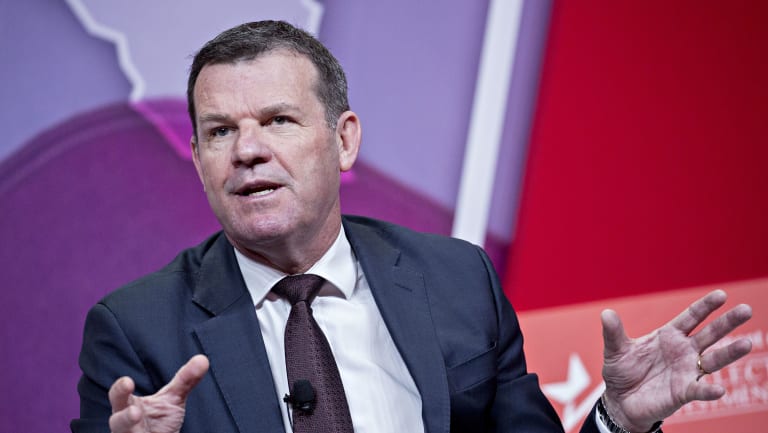 Brett Himbury said because of its ownership, IFM Investors, did not face the same conflicts as listed money managers.
"I'm really happy for that question to be raised, because the first thing I'd point to is the 89 per cent of [IFM's] products and mandates outperforming," Mr Himbury said on a call with journalists after the fund delivered its annual results.
"We win money from our clients in this country, from industry funds, and from 19 other countries in the world, because of a demonstrable ability to add to their returns. We do not win money for any other reason."
The royal commission will next month hold hearings in Melbourne focusing on super. A key question it is likely to focus on is how fund directors deal with an obligation to act in the interests of their members – as opposed to unions, shareholders, or other groups.
It is not yet known which funds will appear, but observers expect scrutiny of both for-profit funds and not-for-profit sector, of which IFM is a major player.
Earlier this year, the royal commission initially wrote to a large number of funds and fund managers, and Mr Himbury said IFM had received a small number of follow-ups since then, but little from the commission more recently.
He highlighted the contrast between IFM Investors' ownership by industry super funds, compared with retail funds, which faced a conflict because they were owned by profit-seeking shareholders. He argued the returns IFM made for its super fund shareholders were a "byproduct" of its primary focus on fund members.
"When we don't face that conflict because we exist for the benefit of our investors, we can focus on generating returns for those investors. Which is different from being… a listed company where you've clearly, understandably, got the responsibility to drive your shareholder returns," he said.
IFM Investors, which is owned by 27 not-for-profit pension funds, grew its funds under management by 15 per cent in the year to June, to $107 billion.
It did not release financial accounts but said its pre-tax profit margin had lifted to 25 per cent, which was "deliberately and substantially" below margins of global peers.
As the pool of domestic super swells, Mr Himbury said super funds were likely to put more funds to work in overseas assets, and it was a "distinct possibility" funds may also  need to take larger stakes in publicly-listed companies, or potentially take them private.
Mr Himbury said the trade war between the United States and China had added to market confusion, alongside rising interest rates, but this was also creating long-term investment opportunities.
More global capital was flowing into unlisted assets classes including infrastructure, and investors were increasingly focused on driving down fees to support returns, he said.
"I think there's a bit of a tipping point in economic and investment markets around the globe as we go from a low interest rate environment to a rising interest rate environment," Mr Himbury said.
Source: Read Full Article