Scalise reveals how Republicans plan to keep control of the House in November
Rep. Steve Scalise talks GOP plan to retain the House
House Majority Whip Steve Scalise joins 'Sunday Morning Futures' to discuss House Republicans' agenda as midterm elections approach.
Amid talks of a "blue wave" in the coming November midterm elections, House Majority Whip Steve Scalise on Sunday outlined the Republican Party's plans for retaining control of the House, saying it boils down to focusing on economic growth.
Continue Reading Below
"We're gonna bring some more bills to cut taxes, we're gonna make the tax cuts permanent – that bill Chairman [Kevin] Brady and his committee are already working on," Scalise, R-La., told Maria Bartiromo during an exclusive interview on "Sunday Morning Futures." "We just did a JOBS [Act] 3.0 bill to provide more regulatory relief and do some more things that'll help create more jobs and rebuild the middle class."
The Louisiana congressman also noted that a tax bill will be introduced to the House in September, and is confident the legislation will pass, despite likely opposition from Democrats.
In addition, Scalise said the GOP is working to revamp the health care system in the U.S., including working on a bill to get rid of the medical device tax, a 2.3% excise tax on the price of medical devices sold in the U.S. That tax, according to the Tax Foundation, is responsible for the loss of nearly 22,000 jobs from 2013 to 2015.
"We're gonna bring a bill to repeal the medical device tax, push back the health insurance taxes, the HIT [health insurance tax] tax, some of these things that are hurting health care in this country," he said.
Meanwhile, despite the rising stardom of Alexandria Ocasio-Cortez – a 28-year-old Democratic Socialist from New York who recently defeated 10-term Democratic Rep. Joe Crowley in a massive upset – Scalise isn't fazed. Dubbed "the future of our party" by Democratic National Committee Chairman Tom Perez in early July, Ocasio-Cortez has pushed for universal health care and called for abolishing U.S. Immigration and Customs Enforcement (ICE) and was campaigning last week in Kansas – a red state – alongside Sen. Bernie Sanders.
Advertisement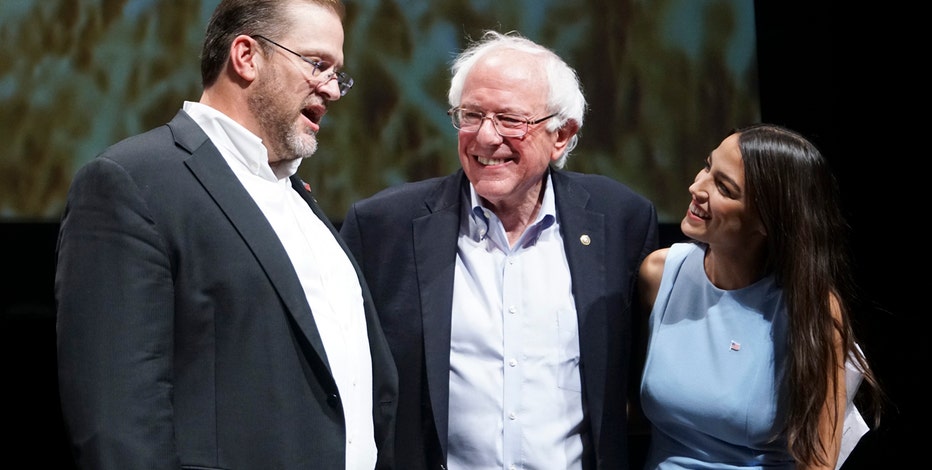 Kansas congressional candidate James Thompson, left, U.S Sen. Bernie Sanders, I-Vt., and Alexandria Ocasio-Cortez, a Democratic congressional candidate from New York, stand together on stage after a rally, Friday, July 20, 2018, in Wichita, Kan. (Jai (Jaime Green/The Wichita Eagle via AP)
"America's still a center-right country," Scalise said. "And you saw she was out there with Bernie Sanders going through the Midwest … they're trying to push this idea of abolishing ICE of all things. … The very people who keep our country safe. … That's not what this country is all about. I hope they keep going around and letting people know that's what they would do if they were in the majority."
Source: Read Full Article