Alexandria Ocasio-Cortez's First Major Post-Election Dispute Hints At Future Battles
Alexandria Ocasio-Cortez's public spat Thursday with Rep. Joseph Crowley (D-N.Y.), the powerful congressman she defeated in last month's Democratic primary, highlights progressives' growing concern that the political machine he once led as "the King of Queens" is moving swiftly to undermine the Democratic socialist star and her allies.
At issue is an obscure feature of New York election law that enables Crowley to remain on the ballot line of the Working Families Party, a progressive group, despite losing the Democratic nomination for New York's 14th Congressional District. New York allows candidates to appear on multiple ballot lines; in practice, Working Families Party-nominated candidates almost always run as Democrats as well.
The Working Families Party endorsed Crowley in the primary, but immediately threw its support behind Ocasio-Cortez after she won. For weeks, it tried to convince Crowley to cooperate with one of several loopholes used to remove candidates from a ballot line in extenuating circumstances. The potential removal options include filing to run for a different office that one is virtually assured of not winning, or registering as a voter outside the district. The former is complicated but not uncommon in cases where the party wants to avoid splitting the liberal vote.
However, on Wednesday, The New York Times reported that Crowley was refusing to file a symbolic candidacy for another office.
Ocasio-Cortez blasted Crowley on Twitter, calling the decision a betrayal of his promise to back the Democratic nominee in the general election.
"He's mounting a 3rd party challenge against me and the Democratic Party- and against the will of [the New York Working Families Party]," she told her more than 700,000 Twitter followers.
Ocasio-Cortez also claimed that Crowley had "stood me up for all 3 concession calls."
In a follow-up tweet, she invited supporters angry about the development to contribute to her campaign.
Crowley's campaign denies that his presence on the Working Families Party ballot line is anything more than a formality.
"We are not at all running. This is completely and totally absurd. He is vigorously supporting her," a Crowley campaign spokesperson said.
Crowley merely considers launching a symbolic bid for another office for which he has no constituency tantamount to "voter fraud," according to the spokesperson.
The spokesperson also dismissed the notion that Crowley was seeking to avoid a concession call, maintaining instead that Ocasio-Cortez had been unavailable more than once when he tried to reach her.
Alex Rabb, the Working Families Party's counsel, acknowledged Crowley's concerns about so-called voter fraud but said they were unwarranted.
"There are common, straightforward and legal ways to remove candidates from the ballot in cases like this," Rabb said.
Few poll watchers believe that Crowley would receive more than a nominal percentage of the vote in November as a Working Families Party nominee. Corbin Trent, a spokesman for Ocasio-Cortez, said that Ocasio-Cortez's team is confident that she remains a shoo-in in the general election, but that Crowley's presence on the ballot raises some "uncertainty" about it.
"We're trying to make sure it's a decisive election mobilizing new voters and that it's a mandate," he said.
Trent also conceded that the "details" of Ocasio-Cortez's tweet implying Crowley had stood her up might be debatable.
"Has there been a miss/hit here, a miss/hit there? OK. But the fact is, they've had her information since the night after the election," Trent said.
In fact, the dispute is less about the particulars of Ocasio-Cortez and Crowley's contest, and more a reflection of the deep skepticism that national and local progressives continue to harbor toward the Queens Democratic machine. Ocasio-Cortez's win deprived Crowley, the boss of Queens Democratic Party politics, of his most powerful perch.
But Crowley remains chairman of the Queens County Democratic Party, and the machine he built ― consisting of loyal state and city lawmakers, judges, Democratic committeemen and officially sanctioned Democratic clubs ― is not going away anytime soon.
"Joe Crowley might be done, but the people who worked for Joe Crowley are not done," said Nick Haby, a member of the Powhatan and Pocahontas Democratic Club and former Crowley supporter who switched his support to Ocasio-Cortez in early June. "Even though Alexandria has made her mark, they don't want her to impinge on their own careers."
And until New York's voting laws change, the state remains bedeviled by a system designed to drive down voter turnout. Among other conservative characteristics, New York has no early voting or same-day registration, and its federal and state-level primaries occur on two different days.
"The systems that prevented a primary for 14 years in Ocasio-Cortez's district … are still very much in place," Trent said. 
In particular, activists worry the party leaders could attempt to outmaneuver nascent efforts to challenge Queens District Attorney Richard Brown, who has gone unchallenged since Gov. Mario Cuomo (D) appointed him in 1991. The 85-year-old has no heir apparent and told NY1 last year he had no plans to retire.
Louis Flores, an anti-corruption activist who campaigned for Ocasio-Cortez in Queens, said he and other progressives in the borough are seeking a left-leaning candidate to challenge Brown or his chosen successor in 2020. But he now worries Brown is preparing to step aside early, triggering a special election that would give a Queens establishment-picked candidate an advantage. Another concern is if Brown retires after the November election, allowing a re-elected Gov. Andrew Cuomo (D) ― the son of the man who appointed him three decades earlier ― to appoint his successor.
"Since Ocasio-Cortez ousted Crowley, a lot of us are looking at the next most powerful person in the borough, and that is the district attorney," Flores said, adding that Brown's refusal to embrace a rapid closure of the Rikers Island prison and champion criminal justice reforms mean he's "not on the right side of history."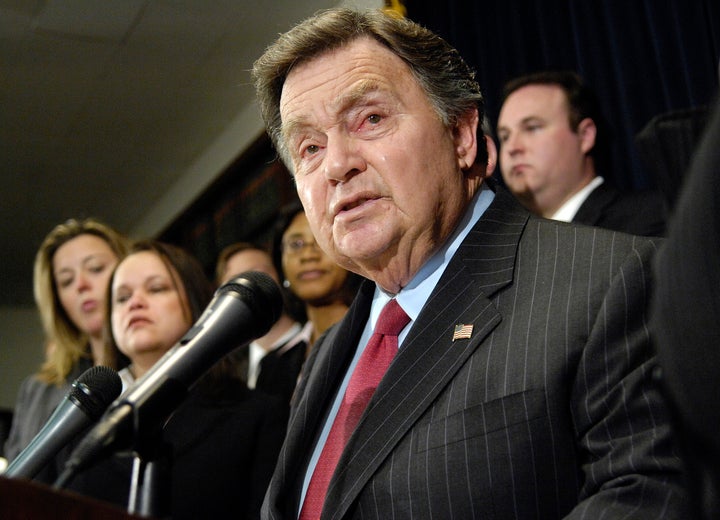 "What the machine is doing with the Queens district attorney is an attempt to flex its muscles in the face of the Ocasio-Cortez win, to say, 'We're still in power, we still control the borough,'" he said, pointing to Queens Borough President Melinda Katz as a likely candidate.
In a response to questions about Brown's potential retirement plans, Queens district attorney spokeswoman Meris Campbell sent HuffPost a link to a fawning interview published this week by independent New York police columnist Leonard Levitt. In the interview, Brown said "nobody's pressing me" to retire. Levitt said that Brown planned to serve out the final two years of his term and "even mentioned running yet again in 2020, unlikely as that seems."
Katz did not respond to HuffPost's request for comment Thursday.
Ocasio-Cortez spent the weeks since her surprise victory last month campaigning for progressive primary candidates in congressional and gubernatorial races, and endorsing existing left-wing challengers in races across New York, including Zephyr Teachout for state attorney general and Brooklyn-based state Senate hopeful Julia Salazar. But she has remained quiet on the district attorney who presides over much of her home district.
The Ocasio-Cortez campaign sees Brown's 27-year tenure as emblematic of an undemocratic political machine greased with corporate money, Trent said. But he said Ocasio-Cortez is focused on "the handful of people she's endorsed."
"Like everything else, she'll have to see who's running to see who the options are," Trent said of the district attorney race. "She's not promoting anyone."
Flores said he's frustrated that Ocasio-Cortez hasn't helped recruit a candidate to challenge Brown.
"Ocasio ran on the presumption that there was urgency around criminal justice reform, particularly from immigrants," Flores said.
"For her to say we're going to wait for someone to show up and then make an endorsement, that puts us in jeopardy because she has the base and the media attention to get this out there for people to look at," he added. "She's pulling back."
Alexandria Ocasio-Cortez Will Be The Leading Democrat On Climate Change

Alexandria Ocasio-Cortez Wants To Bring Grassroots Organizing To Washington

Alexandria Ocasio-Cortez Is Driving New Energy And Money To Progressive Candidates
Source: Read Full Article