Bernie Sanders, Alexandria Ocasio-Cortez Bring A Joint Progressive Push To Kansas
KANSAS CITY, Kan. — Sen. Bernie Sanders (I-Vt.) and Democratic U.S. House nominee Alexandria Ocasio-Cortez came to this Great Plains state on Friday night to try to show that their brand of progressive populism can win over voters anywhere in the country.
The duo, one the 76-year-old grandfather of democratic socialism in America, the other its new 28-year-old superstar from New York City, came to a convention center here to campaign for Brent Welder, a former Obama administration and Sanders campaign official who is running in the Democratic primary to challenge vulnerable GOP Rep. Kevin Yoder in Kansas' 3rd District. It's the only district in a Great Plains state Democratic presidential nominee Hillary Clinton won and is chock-full of the college-educated suburbanites who have turned against Republicans in recent years.
"And they said it wouldn't work in the Midwest," Ocasio-Cortez declared at the start of her 10-minute speech, to the cheers of 1,500 people packed into a sweaty auditorium. The line was a reference to comments from Sen. Tammy Duckworth (D-Ill.), who aired her skepticism that Ocasio-Cortez's rhetoric could win over voters in the Midwest. "They told me I wouldn't be welcome here. They told me that a message of health care, education and housing stability wouldn't be welcome here."
Kansas is considered one of the most solidly Republican states in the country ― it hasn't sent a Democrat to Congress in a decade, and Democrats' last serious run at winning a statewide race ended in defeat ― but Sanders insisted it was ripe for a progressive revolution.
"I don't believe there are red states or blue states or purple states," he said during his 30-minute speech. "I believe that any state in this country where working people are struggling is a state that's ready to vote for justice."
Sanders and Ocasio-Cortez's trip, and the enthusiastic receptions they received both in Kansas City and earlier in Wichita, seemed designed to show that the same policies that have won the hearts of voters in Vermont and upturned a political machine in the Bronx and Queens can win in the Heartland, despite skepticism from centrist Democrats and mockery from conservative Republicans who think Sanders and Ocasio-Cortez are leading the Democratic Party to disappointment in November by dragging its national profile too far to the left.
There are reasons to be skeptical. Few national Democrats give James Thompson, the candidate Ocasio-Cortez and Sanders stumped for in Wichita, a real chance of winning against GOP Rep. Ron Estes in November. (Estes narrowly beat Thompson last year in a low-turnout special election.) And Welder will have to beat two strong candidates in the Aug. 7 primary: history teacher Tom Niermann has the backing of a slew of local politicians, and EMILY's List has already pledged to spend heavily to back former Obama administration official Sharice Davids.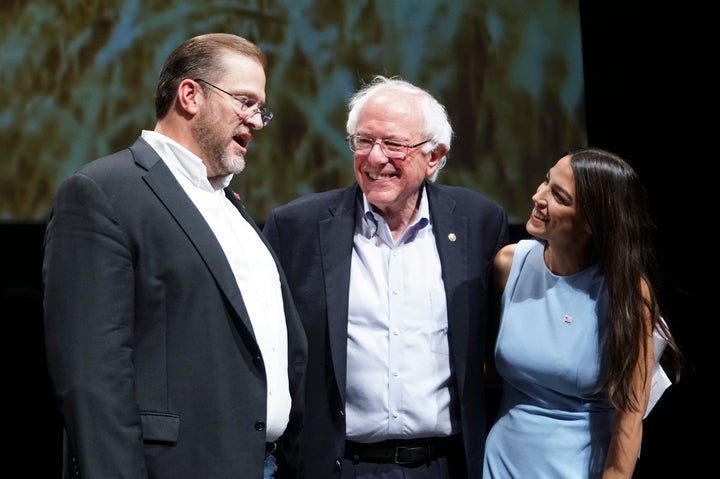 If he triumphs then, he'll have to defeat Yoder ― who has amassed a nearly $2 million war chest ― in November. 
But the skeptics weren't in attendance Friday night.
"The upset she showed in New York City is exactly what's going to happen in Kansas," Sanders predicted at the beginning of his speech. 
Ocasio-Cortez and Welder portrayed her appearance in Kansas as a natural outgrowth of the state's progressive history, referencing the state's formation and decision to become a free state on the cusp of the Civil War, its support for the New Deal and the "13 mothers and fathers from Topeka that desegregated the schools of this nation" with the Brown v. Board of Education ruling. Welder noted the original populist movement grew out of Kansas more than a century ago.
The crowd began lining up more than two hours before the event. At its peak, the line stretched around the block, with seemingly every branch of the Democratic Party in attendance: women wearing Moms Demand Action T-shirts, a man holding a sign showing Sanders cuddling a kitten, Black Lives Matter activists and Our Revolution members.
While Sanders was the headliner, Welder ended his speech on a note designed to evoke a more successful Democratic presidential candidate, Barack Obama. He ran through a laundry list of progressive goals ― Medicare for all, eliminating corporate money in politics, raising the minimum wage to $15 ― in a call-and-response with the crowd.
Each time, their response was the same: "Yes, we Kansas!"
How Alexandria Ocasio-Cortez Caught Fire And Took Down The 'King Of Queens'

Alexandria Ocasio-Cortez Says She Would Support Trump Impeachment

Alexandria Ocasio-Cortez Will Be The Leading Democrat On Climate Change
Source: Read Full Article