The Democratic Establishment Is Still Winning. Progressives Are Trying To Turn The Tide.
KANSAS CITY, Kan. ― The progressive revolution isn't going quite as planned.
The establishment is winning more Democratic primaries than progressives are, and the type of earth-shattering upsets that signified the Republicans' tea party wing was becoming an electoral force in 2010 have been few and far between. With just 19 states still left to hold their primaries, opportunities to shape the Democratic Party are slipping away.
Sen. Bernie Sanders (I-Vt.) and Alexandria Ocasio-Cortez, the Democratic nominee for a House seat from New York, came to the Great Plains last Friday and Saturday to seize those opportunities.
"I don't believe there are red states or blue states or purple states," Sanders said as he rallied for labor attorney Brent Welder, a Democratic congressional candidate, before a crowd of more than 2,000 people in a sweaty convention center auditorium. "I believe that any state in this country where working people are struggling is a state that's ready to vote for justice."
But they face distinct challenges in different areas, illustrated in each of the three districts they campaigned in:
Kansas' 3rd Congressional District: In a swing district in Kansas City and its suburbs, progressives need to convince some skeptical Democrats that they can actually win in a general election. 

Kansas' 4th Congressional District: In a blood-red district in Wichita and its surrounding rural areas, progressives need to pull off a general election upset. 

Missouri's 1st Congressional District: In this heavily Democratic urban district in St. Louis, progressives are going up against a long-standing political machine.
The progressive movement has succeeded in pushing some of its policy goals: record numbers of candidates are backing Medicare-for-All and swearing off corporate PAC donations. But so far, Democratic voters have mostly stuck with the establishment. Thirty percent of establishment non-incumbent candidates in Democratic primaries have triumphed, according to a Brookings Institution analysis. Just 22 percent of self-defined progressive candidates have won. (Since most primaries have more than two candidates, a majority of candidates in both categories lost.)
"There's an extraordinary number of progressives running," said Elaine Kamarck, a senior fellow at the Brookings Institution, who led the study. "They're doing well, but not as well as establishment challengers."
Others come to a similar conclusion: An analysis by The New York Times found just one-sixth of Democratic primary winners so far are affiliated with key progressive insurgent groups like Justice Democrats or Our Revolution – and many of them come from seats Democrats have little chance of winning in November. Of the swing-district candidates the Democratic Congressional Campaign Committee has put on its Red-to-Blue list, just two have lost to progressive challengers. And only a single incumbent, House Democratic Caucus Chair Joe Crowley, has lost a seat in a primary. It's a far cry from the impact the tea party movement had eight years ago.  
'I Don't Think There Is A Desire To Swing Far Left.'  
The afternoon of Sanders and Ocasio-Cortez's rally for Welder, one of his primary opponents in Kansas' 3rd Congressional District, history teacher Tom Niermann, was knocking on doors. One voter, who was doing yard work, laid out his one qualification for a candidate: "Can you beat Kevin Yoder?"
It's a paramount concern in this swing district, where President Donald Trump is reviled ― Democratic polling puts his approval rating at around 35 percent. Yoder is the Republican who represents this well-off congressional district, where 90 percent of the population has health insurance coverage and the median income is high enough to place in the top 20 percent of all congressional seats nationally. Yoder is considered vulnerable, and the DCCC made the district one of its first targets this cycle.
The original Democratic favorite in the district, businesswoman Andrea Ramsey, dropped out of the race in December after it was reported she had sexually harassed and fired a subordinate. Since then, a six-way field has emerged, with Niermann winning the backing of most local elected officials, Welder becoming the favorite of progressives and Sharice Davids picking up the backing of EMILY's List with her standout résumé.
Of the three, Niermann is the clear moderate. He's avoided taking divisive positions, such as supporting the abolishment of Immigration and Customs Enforcement (he instead supports "putting limits on ICE's power"). And he won an endorsement from a moderate Republican, state Sen. Barbara Bollier, earlier in the week. He's running a campaign focused on the backlash over former Gov. Sam Brownback's (R) cuts to education and on support for gun control.
"For 26 years, I've taught everything from the American Revolution to the civil rights movement," Niermann says in his first television ad. "I've never imagined I'd have to teach my kids how to react if someone busted through the door with an assault rifle."
In an interview, Niermann raised concerns that Welder's aggressive agenda could alienate the swing voters needed to win the district.
"I don't think there is a desire to swing far left," Niermann said. "I think there is a desire to remove the far right and to return to sensible government."
Asked if he thought Welder's embrace of Sanders was making his primary opponent unelectable, Niermann responded simply: "In a general election, yes."
Welder, later Friday at the rally with Sanders, was clearly aware of questions about his general election viability. His volunteers passed out signs declaring "Win with Welder," and he boasted of a poll showing him leading Yoder by 7 percentage points. But his strategy seemed off.
He noted thousands of voters in Kansas and millions of voters nationwide who backed Trump after supporting President Barack Obama four or eight years earlier.
"These are not the country club Republican types; these are working families," he said to applause. "But the Democrats can win back these working-class Trump voters. We can unite the divides in our party and inspire infrequent voters and young people."
There's one problem: The 3rd District isn't full of Obama-Trump voters. It's full of their political opposite, voters who backed GOP presidential nominee Mitt Romney in 2012 and then supported Democrat Hillary Clinton four years later. Romney had won the district by 10 percentage points, then Clinton won by a single point four years later. 
Welder's campaign didn't respond to interview requests. His first television ad emphasizes his work for the Obama campaign, complete with a "Yes, we Kansas" slogan. He has endorsed Medicare for all, sworn off corporate donations and backed a $15 minimum wage.
Voters at the rally were receptive to Welder's message ― even if not all were committed to backing him, and many had come across the border from Missouri.
A mother and son illustrated some of the divides. 
"I'm looking for somebody to fix what Brownback destroyed," said Liz Pfau, a customer service representative from Roeland Park, Kansas, describing Niermann's pitch almost exactly. "It frightens me to death that I can go to a college campus and the person next to me could be holding an assault rifle."
Her son, Ethan Stone, a rising college senior, seemed more likely to back Welder.
"I'm looking for someone who is as close to my ideology as possible," he said, although he admitted, "I know some people are voting strategically for who can beat Yoder."  
What could have been a straightforward progressive vs. moderate matchup shifted when Davids entered the race in February. She's the candidate whose résumé stands out the most: She's a Native American lesbian raised by an Army veteran who is a single mom. She worked her way from community college to Cornell Law School to a White House fellowship while also mastering martial arts and competing in two professional MMA fights. EMILY's List has promised to spend hundreds of thousands of dollars to back her candidacy. (Davids has far less cash in her campaign account than Welder or Niermann, according to Federal Election Commission records.) 
Introducing herself to voters while knocking on doors in the suburb of Mission, Davids leaned heavily on that résumé, relating her life story to voters and handing out flyers that said she was "Changing the face of Kansas politics."
"It does matter to me that there's such a narrow range of experiences that have been represented in our government," she said in an interview. "I can see how one different voice changes the conversation around policy."
To her, the other options in the race blended together. "At that time, frankly, it was four white guys in the race," she said of her decision to jump in. "I didn't feel I saw anybody who could beat Yoder, or was speaking to something new and different." 
Left-Wing Wins, Right-Wing Districts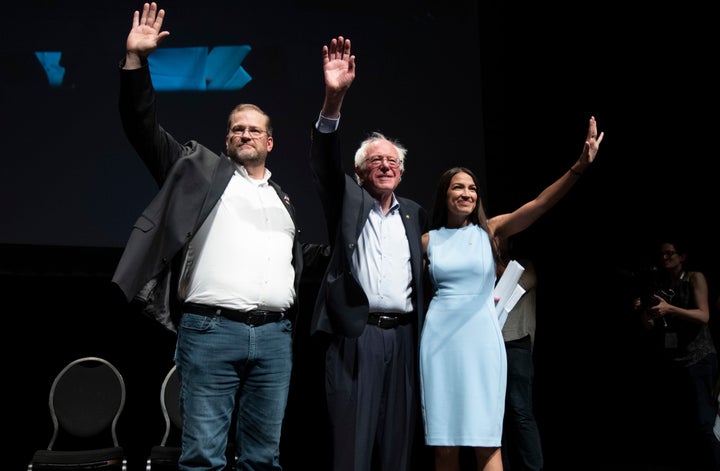 While Welder still needs to triumph in his primary, Ocasio-Cortez and Sanders' first stop in Kansas was in a district where their endorsed candidate is nearly certain to make it to the general election. They were campaigning for James Thompson, an Army veteran and civil rights lawyer who nearly won a special election for the state's 4th District in April 2017. 
The 46 percent of the vote Thompson won was considered a triumph of sorts: Trump had defeated Clinton by a 60 percent to 33 percent margin. But political prognosticators now give him little chance of winning in a larger-turnout race. Election forecasters label last year's victor, GOP Rep. Ron Estes, as safe.
This points to the second problem for progressives: Many of them are winning Democratic primaries in districts Democrats have little chance of winning in November. One in four progressive primary winners is running in a district with a partisan voter index greater than R +15, which means Republicans have won the past two presidential elections in the district by an average of 15 points. Among candidates whom the Sanders-backed Our Revolution have endorsed in GOP-held districts, just two have won primaries in districts with a PVI less than R +10.
"If you have a district with almost no Democrats, you have a very small primary electorate. And so it's not surprising when a very left-wing candidate wins," Kamarck explained. "It doesn't have much meaning, at least in the near future, in terms of what the Democratic Party will do if they get power in Congress." 
There was genuine enthusiasm for Sanders and Ocasio-Cortez ― their rally was moved to a bigger venue because of strong demand ― and they plan on proving Thompson's skeptics wrong. 
"They say that the movement won't work in Kansas," Ocasio-Cortez told supporters backstage at the rally. "They say don't go to Kansas, they won't accept you there, they won't share your values there. And we all know that that is not true."
"They don't know squat," Thompson added. 
The Next Ocasio-Cortez
The night after the rally for Welder, Ocasio-Cortez traveled 250 miles to the east to campaign for Cori Bush, a nurse who became a prominent leader of the protests after the 2014 fatal police shooting of Michael Brown in Ferguson, Missouri. In the Democratic primary, Bush is running against Rep. William Lacy Clay, who has held the seat since 2001. Before then, his father, Bill Clay, had held the seat since 1969, helping create the Congressional Black Caucus during his tenure.
Bush's campaign bears a resemblance to Ocasio-Cortez's upset victory over Crowley: Both Missouri's 1st District and New York's 14th District are urban, majority-minority and safely Democratic. Clinton won 77 percent of the vote here in 2016. 
It's these districts that may prove most fruitful for progressive insurgents in the coming months of primaries. Beyond Bush's challenge to Clay, women of color hope to upset longtime incumbents in a district in Boston and in Delaware's Senate race. But each candidate will need to break decades-long strangleholds.  
Bush's rally with Ocasio-Cortez, conveniently on Bush's birthday, was held at the Ready Room, a music venue in the city's hipster-filled Grove neighborhood. The 500-strong crowd was majority-white in a district that is 49 percent African-American, and for a political event, the crowd was remarkably young. 
Few of the attendees expressed real policy disagreements with Clay ― several pointed to Bush's decision to reject corporate money, and one young woman noted Clay had recently sided with a developer in a dispute with the city of St. Louis. Mostly, they wanted a more activist approach from their representative – and more progressivism from the Democratic Party writ large. 
"So many people in office are kind of Ivory Tower," said Marilyn Vollet, who leads a progressive group called House of Truth. "[Ocasio-Cortez and Bush] are more of the people."
In an interview after the rally, Bush took a similar angle.
"I think a lot of politicians were that way, were just being a corporate Democrat or someone who is not necessarily an activist. There was a group of politicians who didn't think that that was their role," she said when asked about Clay. "We have to have fighters in these positions. The community is under attack on all sides."
Lacy Clay didn't respond to HuffPost's request for an interview. His campaign has sent out mailers boasting of his support for Medicare for all and his ability to bring home the bacon, including landing a new western headquarters for the National Geospatial Intelligence Agency. 
Before Bush took the stage, activist after activist ― representing Latino immigrants, the disabled community, Palestinians and more – testified on her behalf, noting she frequently showed up at protests in her nurse's scrubs. (She also received an endorsement from Maxi Glamour, "the demon queen of polka and baklava.") 
State Rep. Bruce Franks, a fellow Ferguson activist who said he met Bush "in tear gas and pepper spray," was the speaker who took the most direct aim at Clay, saying he was "from a political dynasty" and "perpetuated the same bullshit."  
"This is not about me having a big title," Bush said. "This is about you getting big change."
Ocasio-Cortez, meanwhile, stood as a reminder that the upset was possible.
"The fact that [Ocasio-Cortez] won, it makes me think of races like these," said Robert West, an attorney who first learned about Bush when she spoke at a rally for Bernie Sanders in 2016. 
Source: Read Full Article