Lawyer Michael Cohen Secretly Taped Donald Trump Discussing Payment to Playboy Model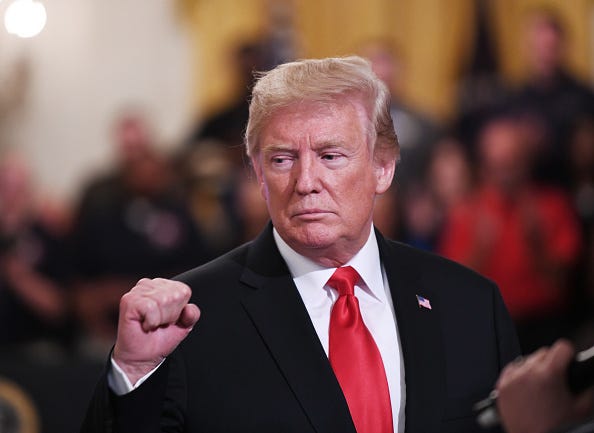 According to a new report from The New York Times, Donald Trump's lawyer Michael Cohen recorded a conversation with the now-president two months before the election in which he allegedly discussed paying a former Playboy model who has claimed she had an affair with Trump.
The F.B.I. seized the recording earlier this year when they raided Cohen's office. Cohen is being investigated for, among other things, violating campaign finance laws, and he's been at the center of multiple stories alleging payments were made to various women in the run-up to the 2016 election to keep them quiet. What prosecutors want to know now, then, is whether the payment discussed on the tape violates federal campaign finance laws. Per the Times:
Rudy Giuliani, President Trump's personal lawyer, confirmed to the Times that the tape exists, and that Trump himself speaks on it, though it is not clear whether the discussion confirms an affair, or provides any context on why the payment was on the table. Also, Giuliani claimed, the payment being discussed was never made.
A White House producer for CNN tweeted this earlier today:
A source also tells our @DanaBashCNN & @GloriaBorger that upon learning of the tapes, Trump remarked, "I can't believe Michael would do this to me." https://t.co/ocJFGYqo7d
The model in question, Karen McDougal, gave an interview with CNN's Anderson Cooper earlier this year. She alleged that she and Trump had an affair in 2006, shortly after Melania Trump gave birth to their son Barron. She spoke to the National Inquirer about it two months before the election—the tabloid allegedly paid her $150,000 for her story, but sat on it, meaning it was never run and she couldn't take it anywhere else.
When news first broke of the payment just days before the election, Trump's spokesperson at the time, Hope Hicks, strongly denied it. "We have no knowledge of any of this," she said.
Follow Emma on Instagram.
Source: Read Full Article