Sheriff Who Once Endorsed Roy Moore Accused Of Having Sex With Underage Girls
An Alabama sheriff who once endorsed Roy Moore for U.S. Senate — and whose office helped investigate a fire at the home of one of Moore's accusers — is now mired in his own scandal: Police are investigating him for allegedly having sex with underage girls in the early '90s, according to AL.com.
Mary Elizabeth Cross alleged to AL.com that Todd Entrekin, the sheriff of Etowah County, Alabama, had sex with her four times in 1992 when he was 29 — then a commander of the Etowah County Sheriff's Office's drug task force — and she was 15, under the age of consent. Cross said she did not rebuff his advances, but alleged she saw Entrekin rape another underage girl who said no. The incidents allegedly occurred at parties Entrekin threw for other law enforcement officers where drugs were present.
"Todd Entrekin denies, in its entirety, every allegation or factual statement made in the AL.com article," his attorney, Donald Rhea, said in a statement sent to HuffPost. 
Entrekin has worked in the Etowah County sheriff's office in various capacities since 1982 and was appointed sheriff in 2007. (He lost the Republican primary in June, following a completely different scandal involving a beach house.) The seat of the county is Gadsden, a small town of about 35,000 people and the hometown of Roy Moore. Cross noted that her mother used to think she was going to the Gadsden Mall when she would go out — the same mall where, more than a decade earlier, a woman said Moore first approached her when she was 14. Moore has denied the allegations against him.  
Moore has had a long legal career in the county, including as deputy district attorney starting in 1977, and as a judge of the Sixteenth Judicial Circuit from 1992 to 2000. It's unclear if he and Entrekin ever crossed paths, but one of Moore's sons appears to have briefly worked for Entrekin. Entrekin — along with other sheriffs in the state — endorsed Moore during the judge's run for Alabama's U.S. Senate seat.
Moore and his son did not respond to requests for comment.
Shortly after the first sexual misconduct allegations against Moore surfaced, Entrekin said he would withdraw his endorsement if the allegations proved true, and that he would "always stand by the victim of any crime," Entrekin did not comment on whether he had withdrawn that endorsement.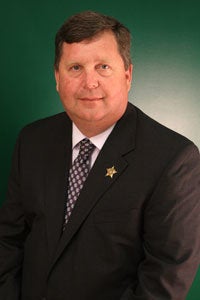 In January, Entrekin's office also helped investigate a fire at the house of Tina Johnson, one of Moore's accusers. Johnson said Moore groped her when she was 28. (Moore did not respond to HuffPost's request for comment on that claim.)
The fire took place on Jan. 3. On Jan. 5, Entrekin's office put out an "arson investigation" statement that noted they were speaking to a "person of interest," but "the ongoing investigation does not lead us to believe that the fire is in any way related to Roy Moore or allegations made against him." A spokeswoman for the sheriff's office told HuffPost it was still their position that the fire had nothing to do with Moore. 
Johnson provided HuffPost with a Gadsden Fire Department report dated March 21, 2018, where an investigator noted that a wall-mounted space heater could "not be ruled in or out" as starting the fire "without further scientific testing." Nor could the investigator rule out "the possibility of an intentionally set fire." As a result, the investigator said, the fire was classified as "undetermined in nature." No charges were brought, according to AL.com. 
The Oneonta Police Department, which is reportedly investigating the claims against Entrekin, did not immediately respond to a request for comment. Entrekin wants the State Bureau of Investigation to thoroughly investigate the claims against him, and stands ready to cooperate, his attorney said.
"That is what innocent people do," the attorney said.  
Have any tips about this story? [email protected]
Source: Read Full Article