Trump Brought His Lies Over To Europe This Week
From the NATO conference in Brussels to his U.K. visit, President Donald Trump spouted lie after lie overseas this past week.
Trump kicked off a contentious NATO summit by berating Germany, falsely claiming that "Germany is totally controlled by Russia because they will be getting from 60 percent to 70 percent of their energy from Russia and a new pipeline."
Germany relies on Russia for between 50 to 75 percent of its natural gas, but the resource comprises only about 20 percent of Germany's total energy sources. The sources of the rest of the country's power are more diverse.
After the summit concluded, Trump held an impromptu news conference during which he highly exaggerated the United States' contributions to NATO.
"The United States has been paying a tremendous amount, probably 90 percent of the cost of NATO," he erroneously said. Before he boarded his plane, he repeated his frustration, but this time said that the U.S. pays for 70 percent.
Regardless of which percentage he cited, Trump's figures are way off. Though NATO has acknowledged that the U.S. pays more than its fair share, the U.S. contributes about 22 percent of NATO's common fund.
Trump also rocked the boat at NATO by pushing for the countries to increase defense spending targets to 4 percent of each country's gross domestic product. A 2014 agreement set a goal for the countries to spend 2 percent of their GDP on defense by 2024, which most of the countries are on track to achieve.
"The United States, depending at the way you calculate it, is at 4.2 percent," Trump said. Once again, Trump inflated U.S. spending — the U.S. defense budget in 2017 was 3.6 percent of its GDP. 
Though Trump announced that the allies had agreed to raise the target to more than 2 percent, French President Emmanuel Macron refuted that notion. 
"There is a communique that was published yesterday. It's very detailed. It confirms the goal of 2 percent by 2024. That's all," Macron told The Associated Press.
When asked about the protests that would greet him when he landed in London, Trump said that people in the U.K. "like me a lot" and then went on to discuss protests in wake of his 2016 election victory. However, he uttered a blatantly false historical fact, saying that he won Wisconsin even though former U.S. President Ronald Reagan had lost in the state.
In fact, Reagan won in Wisconsin in both 1980 and 1984. It's unclear where Trump got his information, but this is the third time he's lied about Reagan's victories in Wisconsin.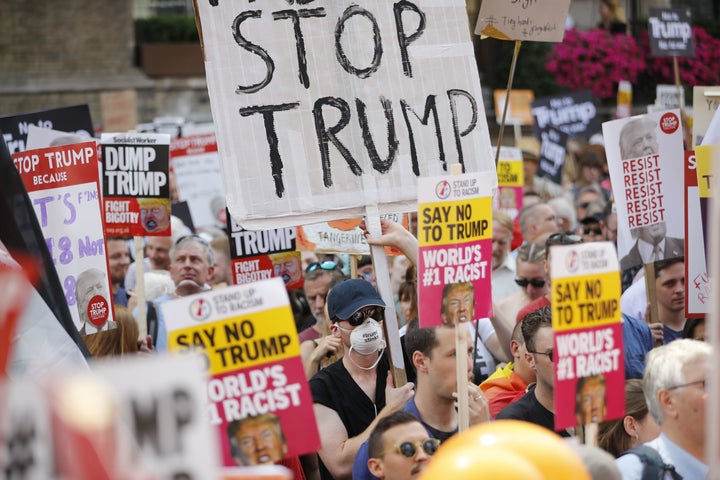 In an interview with British Tabloid The Sun that was published on Thursday, Trump criticized British Prime Minister Theresa May over her handling of Brexit. But the president did a complete 180 in a Friday joint press conference with May, calling his remarks in the on-the-record interview "fake news." 
Trump suggested that a recording of the interview would prove that he did not make such remarks about May. However, in an audio recording of the interview, he can be clearly heard making those comments.
The president also complained that The Sun had not published any of his positive remarks about May, but a Sun reporter at the conference informed him that the outlet had.
During the press conference, Trump also falsely said that the European Union refuses to buy U.S. farm products. That's incorrect — the U.S. exported $11.5 billion in agricultural products to the EU in 2017, according to the United States Department of Agriculture. 
Trump's pattern of spewing falsehoods is nothing new. The Washington Post reported that the president made 3,001 false or misleading claims as of May 1, and that number has only increased.
Trump Kicks Off NATO Summit With Breakfast Rant: 'Germany Is A Captive Of Russia'
Trump Calls His Theresa May Brexit Criticism 'Fake News'
Britain Is Going Wild In Protest Of Donald Trump's UK Visit
This Week Was A Great Reminder That Trump Is A Huge Liar
Source: Read Full Article