Trumpism Is Thriving In Sweden By Carefully Ignoring Donald Trump
President Donald Trump and his allies have been loudly trying to export their core policies of slashing non-white immigration and torpedoing efforts at global cooperation. But with a political win in Sweden, their next big target, looking increasingly likely, the American president might be better served by a new strategy: keeping quiet.
The Sweden Democrats, a party long defined by opposition to immigration, is expected to secure its best election result ever when the country goes to the polls in September. It hopes to become the king-maker for a likely future coalition government and party members have even suggested it could become the largest party in the Riksdag, the Swedish parliament. Unlike its hardline anti-immigrant counterparts in neighboring countries, however, the party is shooting for success by maintaining a careful distance from the more polarizing elements of the movement.
Across Europe, which Trump is touring this week, foreigner-bashing nationalists are riding the greatest ascendancy of their ideas in decades. Some have sought advice directly from Trump associates like former White House adviser Steve Bannon and U.S. Ambassador to Germany Richard Grenell.
But in historically liberal Sweden, the destination over the last several years of more asylum-seekers per capita than any other European Union nation, Trump is disliked by the vast majority of the people. His direct (and false) attack on the country in February 2017 didn't help. So his would-be ideological partners have adapted, tightly controlling their message and those who represent it.
In the process, the Sweden Democrats may be writing the playbook for anti-migrant politicians hoping to thrive long beyond the Trump moment, by reshaping their country's politics to embrace Trumpian logic without unhelpful references to the man himself.  
"You almost never hear anything about Trump or United States in [the Sweden Democrats'] campaigns or in their discussions. Who discusses Donald Trump? It's the leftists and the liberals," said Li Bennich-Björkman, a professor at Uppsala University.
By leftists and liberals, she meant the reigning Social Democrats, currently in a coalition government with the Green Party. Despite presiding over the greatest economic growth in decades, the Social Democrats are expected to face their worst election result since 1921. Polls indicate that the Green Party might not even gain the minimum level of voter support required to hold seats in the next session of the Riksdag.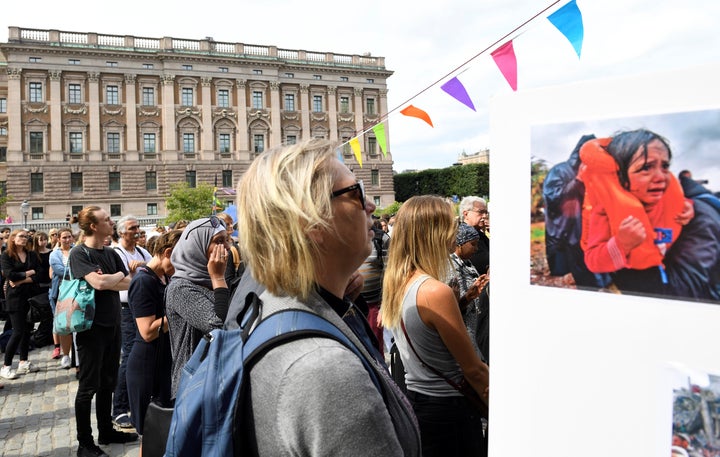 Impressions can matter a lot ― something the Sweden Democrats may have grasped in a way their political rivals have not. Disgust with Trump among left-leaning Swedes is a reaction less to his policies and more to his personality, Bennich-Björkman said.
His name is almost a slur there. "He's certainly a part of our conversation, mostly when politicians accuse each other of acting like Trump," said Johan Ingerö, a former Christian Democratic party official who's now an analyst at the think tank Timbro. Ingerö has publicly compared Social Democratic Prime Minister Stefan Lofven to the U.S. president because of what he describes as their shared inexperience and boastfulness.
But Swedes are far more open to anti-immigrant views when they're not tagged with Trump's name.
The Sweden Democrats are winning voters ― including some on the left ― by casting themselves not as part of a global movement that wants to build walls but merely as defenders of native-born Swedes. They've highlighted economic inequality to suggest that the current liberal government is failing to build a society for all. In talking about their signature issue of immigration, they combine proposals for major policy shifts ― like a near-end to family reunification for legal immigrants and the country's potential departure from the EU ― with deliberately moderate rhetoric and aesthetics. They've carefully differentiated themselves from Trump or Nigel Farage, another bombastic foreign politician who embodied the campaign for Brexit.
The party appeals to the Swedes' view of themselves as rational common-sense thinkers. Slowly and successfully, the Sweden Democrats have promoted the idea that they are simply identifying difficult truths about people with non-Swedish ethnic backgrounds.
This approach reassures voters that the Sweden Democrats would never create a future that resembles Trump's America ― separating infants from their parents, threatening to send over a million peaceful residents back to troubled homelands. It calms fears about the Sweden Democrats' own neo-Nazi past and Europe's longer history of violence against minorities.
And increasingly, the strategy is being mimicked by rival politicians who have failed to find an alternative way to address people's worries about integration and the fate of Sweden's welfare state in the face of the new arrivals.
"It is no longer extreme because other parties have shifted over to their side," Bennich-Björkman said. As Swedish politics stand today, she said, the Sweden Democrats are "a sort of centrist conservative party with very intense perceptions on immigration."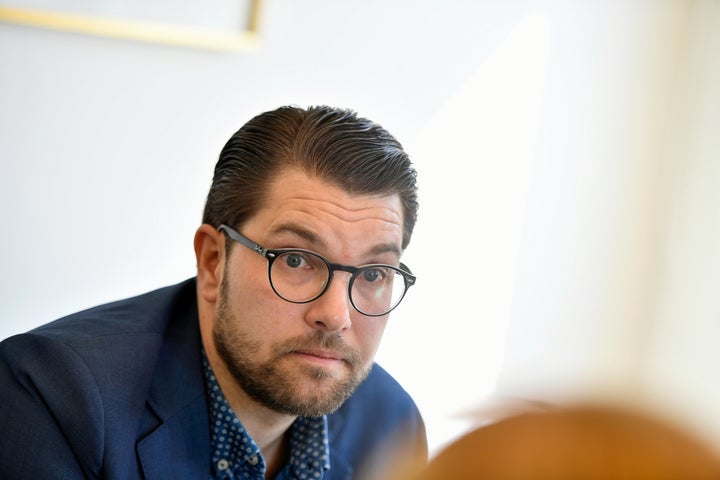 Always calm in public, party leader Jimmie Åkesson boosts his credentials as a moderate by reacting quickly to any incidents that hint at what critics say is the hateful true nature of the Sweden Democrats. He pushed out a local candidate photographed wearing a swastika armband, another who posted racist comments online and a former lawmaker filmed using racial slurs. Even as examples continue to pile up ― on June 22, a top party member wrote on Facebook that Jews "are not Swedes" ― the Sweden Democrats have built enough mainstream credibility to overcome these moments.
A small but steady exodus of the party's most hardline rank-and-file members to a new splinter group called Alternative for Sweden has helped too. "This way, they're not the worst kid in the class," Ingerö said.
In the run-up to the September election, the Sweden Democrats are taking further steps to signal moderation. On July 4, the party's representatives in the European Parliament abandoned a far-right legislative alliance for the more mainstream European Conservatives and Reformists group. Experts in European politics called it a watershed moment. The same week, the party softened its talk of leaving the EU, acknowledging that might be a non-starter in a country hugely reliant on trade with its neighbors ― while still calling for an unprecedented referendum on the issue. And earlier in the year, Åkesson said he had no plans to meet with Bannon, as fellow anti-immigrant Europeans have, and is wary of Russian President Vladimir Putin, an icon for other Western political activists tapping into white resentment.
None of that means, of course, that the Sweden Democrats can't benefit from the work of those fellow travelers. Bannon's former website Breitbart and the Russian government-backed network RT are working hard to spread the perception that Sweden is on the brink of collapse because of its current immigration policies. RT's latest documentary on the situation featured a Nazi's views without presenting any context for his claims. Material like that might not add to the Sweden Democrats' respectability, but among their most fervent supporters and other Swedes tempted by hardline immigration policies, it could help boost turnout.
Barring an earth-shattering event, a big electoral win for the party looks inevitable. What comes next might be even sweeter: Despite their numbers, the Sweden Democrats could choose to stay out of any ruling coalition, leaving that to the traditional major parties. From their seats in the Riksdag, they could avoid accountability for the new government's choices while doubling down on their already successful claim to represent Swedes betrayed by the establishment, Ingerö said.
"They have fairly great credibility today and this is growing," said Bennich-Björkman. "What we see is a party which is going to be one of the largest and keep shifting the landscape here."
The press team for the Sweden Democrats did not respond to a request for comment for this story.
Source: Read Full Article