100% Railways Electrification By 2024
India is now much ahead of other large railway networks in the world in terms of electrification — with the US at just 1 per cent, China at 72 per cent and Europe at 60 per cent.
When the idea of transforming the Indian Railways into a 100 per cent electrified service was first mooted in 2017, there were protests from all corners.
Some analysts said the target was unviable, and others pointed to the risks of grid failure.
The strongest opposition came from US major General Electric, which was worried about the fate of the $2.5 billion diesel locomotive manufacturing contract that it had signed with the government in 2015 to deliver 1,000 locomotives over 10 years under the signature Make in India project.
Five years on, India's share of electrified tracks has increased from 40 per cent to 85 per cent.
At the same time, the government has already received 500 of the contracted 1,000 diesel locomotives from the GE Transportation (now part of Pittsburgh-headquartered Wabtec Corporation) factory in Bihar.
India is now much ahead of other large railway networks in the world in terms of electrification — with the US at just 1 per cent, China at 72 per cent and Europe at 60 per cent.
This raises questions on whether the target of 100 per cent electrification by 2024 is viable and required for a country like India.
"The US prefers diesel. That's because both the lobbies for coal (which is the main commodity of the US railways transport) and oil want diesel. On the other hand, China is inching more towards electrification," says R Sivadasan, former financial commissioner, Indian Railways.
"For India, electrification means a reduction in dependency on imported fuel, the need for only one type of locomotive and cheaper fuel availability," Sivadasan adds.
India imports 85 per cent of its crude oil requirement, of which the Indian Railways is a large consumer.
The reduction on import dependency is evident in the fact that the consumption of diesel declined by 55 per cent, from 2.64 million kilolitres in FY19 to 11.75 million kilolitres in FY21, according to the national transporter's latest statistical statement.
The fuel bill shrank a significant 38 per cent, too, from Rs 18,587 crore to Rs 11,439 crore in the same period.
Experts cite this as a better long-term advantage when compared to an expenditure of Rs 6,961 crore (Rs 69.61 billion) to electrify 6,366 km in 2021-2022.
The line haul cost per thousand gross tonne kilometre (GTKM) is 2.25 times more expensive for passenger traffic and 3.05 times for freight traffic for diesel traction compared to electric, owing to better fuel cost and efficiency (see chart).
Out of the 13,215 locomotives of the Indian Railways, 8,429 are electric as of March 2022, up from 7,587 the previous year.
The transporter also had 4,747 diesel and 39 steam locomotives in March 2022.
Maintenance costs, too, have come down as a result of electrification — it is around Rs 2,300 crore (Rs 23 billion) nfor electric and Rs 2,600 crore (Rs 26 billion) for diesel-based, according to the latest available data.
"Overall, electrified routes are performing well in freight carriage. They are the most powerful locomotives that we are producing, improving the efficiency," says Sivadasan.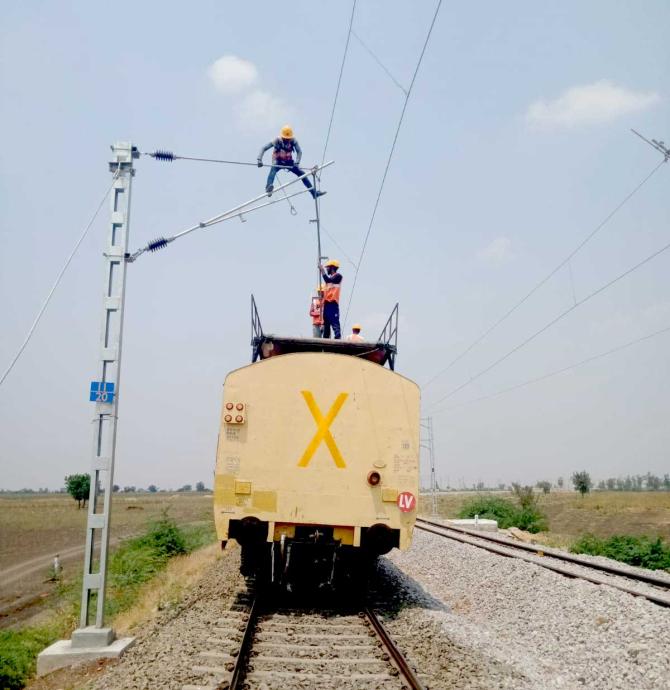 This rising dependence on electric locomotives raises the question of what happens if there is a nationwide or regional grid failure.
"We have not seen any grid failure for a long time," says Vijay Dutt, former additional member of the Railways.
Dutt explains that such episodes were earlier caused by states overdrawing their quota, an issue that has been sorted out by better grid management.
"Now, there is something called islanding, through which we can isolate a particular place and not allow the failure to spread to other places," he adds.
Railway officials, too, said they didn't foresee any grid failure in the immediate future.
On the track to electrification, a major criticism that the national transporter faced was regarding the source of power, given that the country is heavily dependent on thermal or coal-based units.
To tide over this, the government is planning to come up with solar units on unused Railways land and set up over plants generating 2,000 Mw that will supply directly to the grid from which the Railways can source power for both traction and non-traction requirements.
"We are working on the need for traction to have a bigger share of renewable power," says a Railways official.
By the end of 2022, the Railways had commissioned around 143 Mw of solar plants (both on rooftops and on land) and about 103 Mw of wind power plants. It has also tied up with companies to set up 2,150 Mw of renewable capacity.
The Railways is also targeting carbon-neutrality by 2030.
Soon after the Budget, Railways Minister Ashwini Vaishnaw told Business Standard that the Indian Railways will set up "ultra-mega solar plants" too.
This will be done to ensure that not only electrification, but the source of the electricity itself is green.
Meanwhile, experts are worried about the Railways' other priorities for locomotive fuel, such as a plan for 35 hydrogen fuel-based locomotives.
"They are talking about hydrogen as a fuel now but that can only be a replacement for diesel and petroleum and not electric. Where are they planning to accommodate hydrogen after 100 per cent electrification?" asks Sivadasan.
Dutt adds that electrification is four times more efficient than hydrogen.
At the same time, the electrification target may not spell the end of the road for diesel locomotives in India.
"Strategic locations have been identified and it has been planned to keep running a specific number of diesel locos in those areas even after electrification," an official says.
This is to ensure that the remaining set of locomotives, including those procured from Wabtec, are being used and managed properly. But the project for 100 per cent electrification by 2024 looks well on track.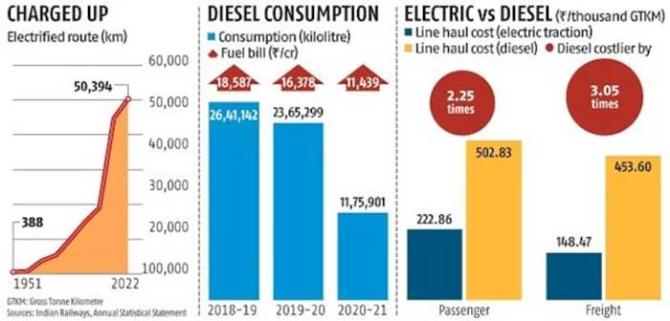 Feature Presentation: Ashish Narsale/Rediff.com
Source: Read Full Article