Data privacy: Tension between big technology firms and govt boils over
There is a perception getting built inside the government that big technology companies — a common term used for firms like Facebook, Google, Twitter, Amazon and the like – are becoming very powerful and present multiple threats to entire nations and their citizens today.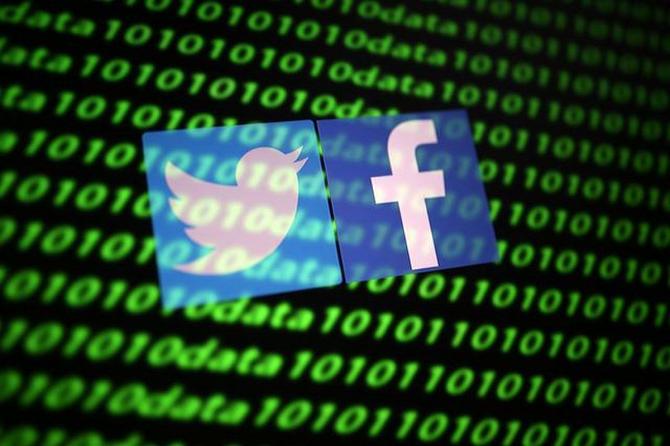 Bill Gates, Microsoft founder, had said earlier that big tech firms deserve to have shots fired at them as they are super successful.
Gates seems to be bang on, going by recent developments.
In January this year, the information technology parliamentary committee, headed by Shashi Tharoor, met executives of social media firms Twitter and Facebook, and grilled them for hours on whether these platforms could rightfully suspend the account of ex-US President Donald Trump after he incited a riot on Capitol Hill.
That meeting was the starting point of a worry that has culminated into the Information Technology (Intermediary Guidelines and Digital Media Ethics Code) Rules 2021, notified by the government on February 25.
The rules were hastened in part, many experts believe, after Twitter did not comply with the government's takedown orders regarding content that amplified the trend #ModiPlanningFarmerGenocide, related to the ongoing farmer protests in the country.
Experts expect more regulatory action in India against these firms, and say this could have an impact on other parts of the world as well.
There is a perception getting built inside the government that big technology companies — a common term used for firms like Facebook, Google, Twitter, Amazon and the like – are becoming very powerful and present multiple threats to entire nations and their citizens today, say several regulatory policy experts.
What makes big tech powerful is consumers and data-capital, said Ambika Khanna, senior researcher, International Law Studies Programme, at foreign policy think-tank Gateway House.
She said there is an increasing influential role that these intermediaries play by providing a platform for engagement between different users across borders.
"The control exhibited by these companies in content regulation (including on government persons, public figures and leaders), there is a need felt for regulation, beyond self-regulation, and accountability with respect to content posted on the platform," said Khanna.
Recently, content regulation has been a notable point of contention between industry stakeholders and the government.
"And of course, the other friction point has been data localisation and cross border flow of data," said Khanna.
She said the final version of the Personal Data Protection Bill will tell if the government found alignment between its interests or concerns and that of the industry.
Salman Waris, managing partner at technology law firm TechLegis Advocates and Solicitors, said that there are fears about social media's force to impact the outcome of elections and divide people in the country.
He said this includes the spread of hate speech, false information and inciting violence.
Kazim Rizvi, founder of The Dialogue, a tech policy think tank, said the virality of social media and its implications on the everyday life of the citizenry is something that cannot be ignored.
The digital ecosystem is replete with CSAM (child sexual abuse material), fake news, drug trade, radicalisation, trolling among other social vices.
Given the network effect that these platforms have, it is important to ensure that these platforms are not misused.
"Thus a regulation that aligns with the contemporary challenges is necessary," said Rizvi.
It is equally important to understand how these platforms are enablers of the user's right to privacy and free speech.
Challenges arise when laws of the physical world are applied in cyberspace.
For instance, take the mandate for 'originator traceability' on encrypted platforms in the IT Rules, 2021.
Conversations in cyberspace can be spoofed, impersonation is possible through cyber-measures, thus mandating 'originator traceability' would be counter-productive as an innocent could be implicated.
"The government has a legitimate interest in responding to the challenges in the digital space but such actions should align with the global soft laws like the Manila Principles on Intermediary Liability and the Santa Clara Principles on Transparency and Accountability in Content Moderation," said Rizvi.
That there is an element of politics in this is undeniable, but keeping citizens' interest should be top of mind for governments as they figure out new regulation.
"Politicians increasingly see it in their interest to criticize big tech, even in the US.
"Outside of the US, it has the added political appeal of aiming criticism at foreign companies.
"That is not to dismiss real and difficult issues, like content moderation, but many politicians find piling on to be politically expedient.
"An interesting question, though, is whether it is really in politicians' interest to do this.
"Surveys (in the US) suggest people have some uneasiness with big tech, but surveys also generally show people have overwhelmingly positive impressions of those companies," said US-based think tank, Technology Policy Institute President Scott Wallsten, in an email response to Business Standard.
India's digital transformation opportunity and anticipated 850 million smartphone users by 2025 have made the country an extremely attractive market for big tech companies like Facebook, Amazon and Google.
The market opportunities for online commerce in the country are expected to touch $200 billion by 2028 from $30 billion in 2018.
Experts said governments across the world will have to aim for a fine balance between the regulation of big tech intermediaries and the protection of fundamental rights.
This includes free speech, data privacy and protection and providing safe harbour to the social media intermediaries.
This cannot be achieved by the government on its own.
"All stakeholders will have to work together to create rules that work for all," said Khanna of Gateway House.
"It is also not an overnight process, especially as most of these companies have a presence in several countries with varying rules on the operation of these platforms."
Photograph: Dado Ruvic/Reuters
Source: Read Full Article