Despite high valuations, analysts put a 'buy' on Siemens
Things are looking up for engineering firms and Siemens is likely to be one of the leading beneficiaries.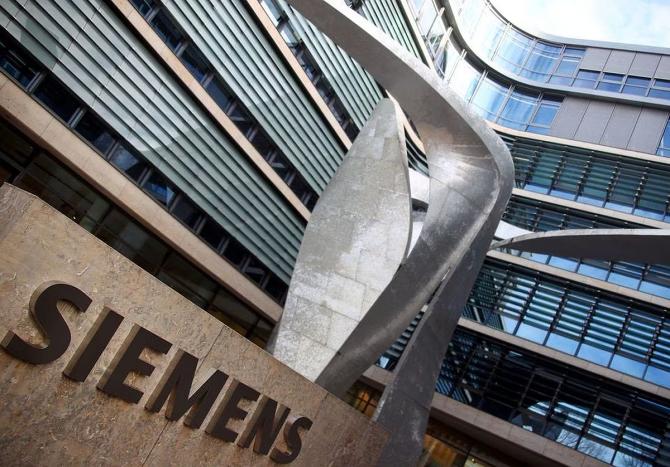 Apart from the generic revival in activity, which is expected to continue through the 2023-24 financial year (FY24), the Budget has a strong infrastructure thrust, which works in Siemens' favour.
The company reported a standalone Ebitda (earnings before interest, tax, depreciation and amortisation) of Rs 550 crore (up 66 per cent year-on-year or YoY) in Q1FY23 (Siemens follows the October-September accounting year).
This was driven by a 13 per cent YoY revenue growth to Rs 3,600 crore and the Ebitda margin expanded by 480 basis points (bps) to 15.1 per cent.
Every segment, except mobility, saw improved margins.
The digital industries segment saw 1,500 bps rise in margins, though this is likely to normalise.
Other income segment also rose 66 per cent YoY due to earnings on high cash balance of Rs 5,700 crore.
Moreover, reported profit after tax or PAT was 78 per cent higher YoY, at Rs 440 crore and order inflow increased by 6 per cent YoY to Rs 5,450 crore.
Consolidated revenues grew 17.4 per cent YoY to Rs 4,020 crore, driven by higher volumes.
Among segments, energy grew 6.5 per cent to Rs 1,160 crore, smart infrastructure by 18 per cent to Rs 1,520 crore, mobility by 27.6 per cent to Rs 380 crore and digital industries by 28.9 per cent to Rs 1,020 crore.
All the gains were YoY.
The firm's gross margins expanded 188 bps YoY to 33.5 per cent, due to softer commodity prices.
Consolidated Ebitda grew 66.6 per cent YoY to Rs 600 crore, with Ebitda margin improving in every segment except mobility.
Consolidated PAT was at Rs 460 crore, up 87 per cent YoY which was aided by higher other income (up 71 per cent YoY to Rs 100 crore).
Greater demand for automation and digitisation is an excellent signal given the company's strength in the segment.
There are multiple growth segments like data centres, e-commerce, waste heat recovery, smart infrastructure, digitisation, automation, railway electrification, charging infrastructure for electric vehicles, decarbonisation, smart metering, smart grids etc.
A recent large order win in railways for 1,200 electric motive (9000 HP) worth Rs 26,000 crore is another signal that Siemens would be a beneficiary of the Budget's policy thrust.
Given order inflows, the book stands at around Rs 18,670 crore (which is 1.1x annual revenue).
Notably, the revenue of its acquired firm — C&S Electric — grew 14 per cent YoY to Rs 330 crore with the earnings before interest and tax (Ebit) margin of 3.4 per cent and Ebit of Rs 11.4 crore, compared to YoY loss of Rs 1.5 crore.
The turnaround is another sign of a strong cycle.
The parent Siemens AG's upward revision of its digital growth guidance to 12-15 per cent and Ebit margin guidance by 100bps to 20-22 per cent is a positive sign for the India subsidiary.
Analysts are almost unanimous in 'buy' and 'add' recommendations, despite the high valuations (PE of 65x) which have been historically sustained.
Target prices range between Rs 3,350, Rs 3,462 and Rs 3,800, which is a moderate to decent upside from the current price of Rs 3,270.
Source: Read Full Article