Dogfight In The Skies For International Routes
West Asian carriers are up against Air India and IndiGo in the battle for seats on lucrative international routes.
The battle lines in the air are being staked out. A few days ago, IndiGo signed the world's largest aircraft deal ever with Boeing for 500 aircraft.
That closely shadowed Air India's order of 470 Boeing and Airbus planes in February.
With 970 new aircraft orders in a space of three months and a price tag of $120 billion, Indian carriers hope to transform themselves into global players of reckoning.
Their strategies may differ. IndiGo plans to increase its share of international business from 23 per cent in FY23 to 40 per cent by 2030 as a low-cost player with single-aisle aircraft.
It does not have to wait for aircraft from the latest order, the first tranche of which is due in 2030; it has a pending order of 480 aircraft, deliverable from this year to 2030.
Tata group-owned Air India, which is inducting 36 aircraft in the interim in 2023 — this number could rise to 50-60 — will take delivery of new planes from the end of the year with some 60 per cent (say analysts) due in 2025.
Air India's international foray would include wide-body aircraft that replace the former state-owned airline's ageing fleet.
These plans are well in sync with the government's objectives. In a recent interview with Reuters, Civil Aviation Minister Jyotiraditya Scindia said that he thinks it is about time that Indian carriers looked harder at the international market.
'That's what we are pushing the airlines to do and that process has started,' he said.
It certainly has.
That is why foreign airlines — led by West Asian carriers — are pushing back.
These airlines have had a dream run in India because domestic carriers lacked sufficient large aircraft to fly directly to the US and also had limited aircraft to ply European routes.
Now, these airlines want the government to expand their quotas under bilateral air service agreements (mostly the UAE, Turkey and some Southeast Asian countries).
The Indian government has decided to keep it near frozen as it did since 2015 — when the reason was to protect Air India, which was making losses and could not deploy more planes to take advantage and the seat allocation to Indian carriers were left unutilised.
But that has slowly changed with private carriers such as IndiGo, SpiceJet and Go First (formerly Go Air) flying abroad and using up the quota.
But the freeze is still relevant because the two big Indian carriers want to grab business from West Asian carriers by offering direct flights to Indian travelers going to the US and Europe, obviating their need to fly via West Asian hubs.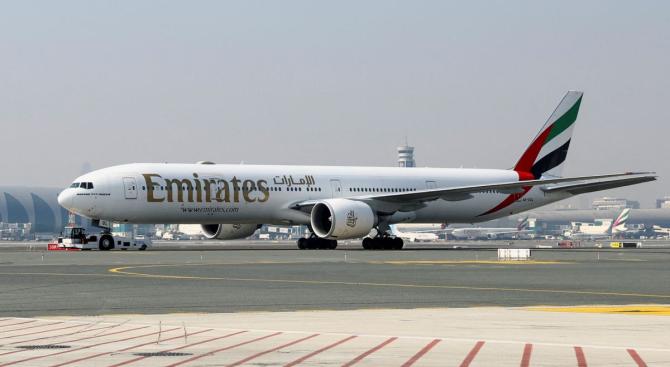 Leading the foreign carrier charge is Emirates President Tim Clark, who recently described the government's decision not to allow them more seats between India and Dubai as 'very vexing'.
Emirates has exhausted its bilateral quota of around 65,000 seats a week and had asked, sources said, for 50,000 more seats.
A proposal by United Airlines for codeshare with Emirates on ex-India routes was also rejected.
Clark said the growth of the India-Dubai sector warranted a doubling of the number of seats, currently 65,000 a week (Dubai wanted 50,000 more a week).
Now, he added, even Indian carriers that have been able to grab share here are being short-changed and denied $1 billion worth of revenues every year because of this shortfall.
International Air Transport Association Director General Willie Walsh bluntly endorsed this view, saying the 'old protectionist India' will hamper the country's ambitions of becoming a global airport hub since other countries are likely to impose reciprocal freezes, leading to a rise in fares.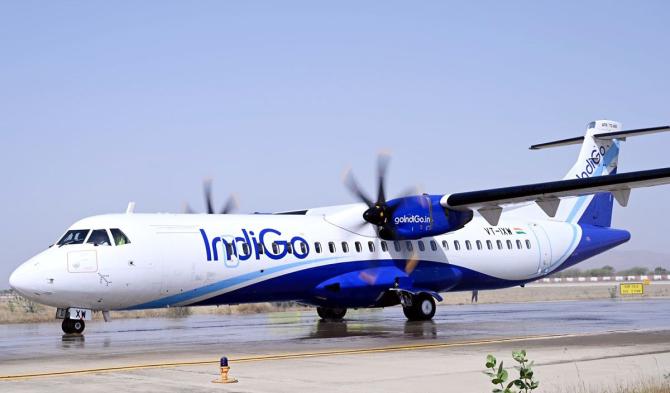 According to CAPA estimates, airlines such as Emirates, Turkish Airlines and Jazeera Airways have asked for 150,000 to 175,000 additional seats a week.
But the Indian government is steadfastly supporting domestic carriers and has made it clear that the freeze will continue.
Indian carriers complain that West Asian competitors have slashed fares on flights from India to UAE, forcing them to match prices and lose money or operate on wafer-thin margins.
And the Gulf carriers made money by flying Indian travellers onwards to US and Europe, which is a lucrative business.
"Giving access is one thing. But West Asian carriers have exploited it to dump fares on the Indian sector because they get jet fuel at low cost, as they are from major oil-producing states. Then they consolidate capacity from India, Pakistan, Sri Lanka and other South Asian destinations in UAE's cities and fly passengers onwards to US and Europe. Bilaterals have only helped them," said a senior executive of a leading domestic carrier.
Industry estimates suggest 30 to 35 per cent of Indian passengers travelling to UAE make onward journeys to the US or Europe.
That is the business that Air India and IndiGo (in Europe and Southeast Asia) want to grab.
That is the business that Indian carriers lost because they lack wide-body aircraft to ply such routes.
Emirates, for instance, has 96 flights to the US every week covering 11 destinations; Air India has roughly 44 a week to five cities.
Etihad has flights from Abu Dhabi to 22 locations in Europe; Air India to seven cities and IndiGo has one (to Istanbul).
Between January and March 2023, 300,000-400,000 Indians travelled to the US and Europe with a stopover in West Asian cities.
Indeed, foreign carriers argue, the eight-year freeze on bilateral quotas has not helped Indian carriers.
Air India had to be sold and Jet Airways closed down. Others only expanded marginally. The only way is to open up.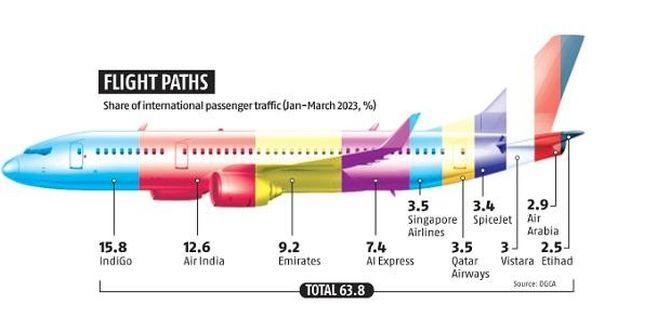 This situation is clearly changing. Air India, under the Tata group, has announced a $70 billion investment to fund its aircraft acquisitions via internal cash, equity and sale-and-lease-back arrangements.
It has already allotted $400 million to refurbish aircraft.
IndiGo lacks big group backing, but has a 60 per cent-plus share of the domestic market.
By sticking to the efficient single-aisle A320 family (including the A321), ICICI Securities notes, it has been able to 'sustain cycles in terms of low cost structure and cash accretion'.
IndiGo has ordered 40 narrow-body A321XLR aircraft with 180-220 seats that will be added to the fleet from 2025, and will help expand its global reach as they can fly seven to seven and a half hours non-stop.
"This would help them start point-to-point direct flights to Beijing, Shanghai, Osaka, Seoul, Manila and even London, Amsterdam and Vienna, and expand their international footprint in a big way," said an industry executive.
Air India's detailed plans are under wraps, but analysts reckon it will offer direct flights to US and Europe — a business it had lost to West Asian carriers — and expand destinations and frequencies in these markets to match the Gulf carriers.
But both airlines need one to three years before their strategies show results, so there is no hurry to unfreeze bilaterals.
Meanwhile, since bilateral quotas are available on most European routes, carriers are preempting these moves by adding more services to India.
Lufthansa recently announced two more flights — Frankfurt-Hyderabad and Munich-Bengaluru; and Virgin is also adding a flight to London-Bengaluru. Many others are finalising their plans.
In short, both domestic majors will be fully tested in parrying these competitive thrusts.
Feature Presentation: Aslam Hunani/Rediff.com
Source: Read Full Article