Favourable winds blowing for Cement sector, demand remains strong
Cement companies witnessed speculative support from investors through FY23 amid hopes of a rebound.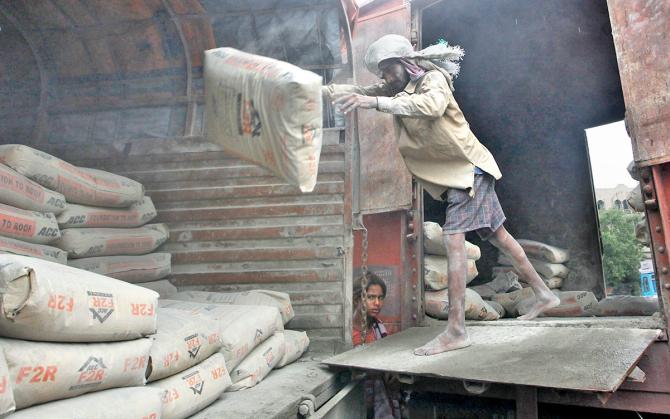 After capex announcements in the FY24 Budget, there was further interest due to expectations that government expenditure would boost earnings, besides a generic macro-recovery.
Cement earnings were under pressure in FY22 and FY23 due to high raw material and fuel costs; muted demand prevented them passing on the higher cost.
Fuel prices are now moderating, which may reflect in earnings of cement companies going forward, once high-cost inventory is mopped up.
Imported coal prices have corrected 45-60 per cent in the past six months and petcoke prices have corrected 23-35 per cent.
Petcoke import prices have eased by over 30 per cent and domestic petcoke prices are also likely to reduce further, since these are at a premium to imports.
Indian Oil Corporation already cut petcoke prices by 11 per cent in May 2023 over April 2023.
This should lead to improved margins for cement companies with spreads per tonne improving with a lag through June onwards, as companies consume high-cost inventory.
According to a sensitivity analysis, operating cost/tonne for the cement industry changes by Rs 40-50 per tonne for every $10 per tonne change in petcoke and imported coal prices.
The average variable cost for cement companies increased 55 per cent over Q1FY22-Q2FY23, which meant a 15 per cent contraction in the gross margin.
Consequently, average Ebitda/tonne fell to Rs 569 in Q2FY23 against Rs 1,401 in Q1FY22, before recovering to Rs 875 in Q4FY23.
Cement companies usually hold fuel inventory of 45-50 days, hence there's a lag in impact on margins.
Cement demand remains strong and volumes are estimated to have grown in low double digits (about 10 per cent) year-on-year (YoY) in April-May 2023.
Higher volume growth is driven by the government's thrust on infrastructure development, improved demand from private capex due to pick-up in commercial and industrial activities and real estate, and improved traction in retail.
Management of most companies have guided for strong volume growth (between 10 per cent and 20 per cent) in FY24.
Cement prices remained largely stable in March-May 2023.
Most cement companies do not expect downside pressure on cement prices given strong demand, and in recent earnings calls, managements were confident that prices are likely to remain stable.
The average spread appears to be up Rs 140 per tonne quarter-on-quarter (QoQ) in Q1FY24.
The industry perspective is positive given a better demand outlook, led by the government's push for infrastructure development and increasing housing demand.
There's potential consolidation in the industry and cost efficiency measures, such as installation of green power plants, and focus on product premium branding.
Most of the majors have good balance sheets with low debt-to-Ebitda ratios.
The enterprise value/ Ebitda ratios are expected to be in the mid-teens to early 20s for FY24.
Companies like UltraTech , Shree Cement, ACC, and JK Cement declared improved Q4FY23 results with strong sequential and YoY revenue expansion and volume growth.
UltraTech continues with its capex plans, sos does Shree. Ambuja Cements and ACC have been a cause of concern due to negative publicity around the Adani group but the company has ordered new equipment and says it is committed to its capex plans.
Disclaimer: This article is meant for information purposes only. This article and information do not constitute a distribution, an endorsement, an investment advice, an offer to buy or sell or the solicitation of an offer to buy or sell any securities/schemes or any other financial products/investment products mentioned in this article to influence the opinion or behaviour of the investors/recipients.
Any use of the information/any investment and investment related decisions of the investors/recipients are at their sole discretion and risk. Any advice herein is made on a general basis and does not take into account the specific investment objectives of the specific person or group of persons. Opinions expressed herein are subject to change without notice.
Source: Read Full Article