In layoff season, social networks are stepping up to help ease the anxiety
Manisha Sharma (name changed) was always among the high achievers in her company.
She was recognised and rewarded for those efforts as well.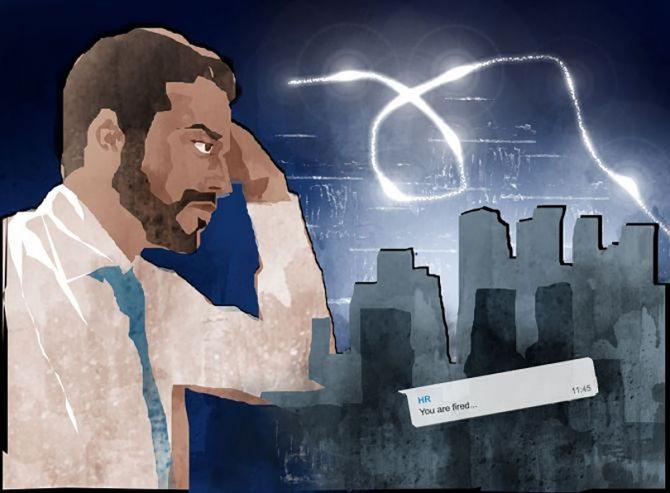 Mid-December 2022, however, she received a jolt: an email informing her that she had been laid off – along with several of her colleagues.
Sharma worked for a big tech firm, which had decided to downsize. And just like that, she was asked to go.
"It did come as a shock," she says.
"I did not take calls for the first two days, but then realised there is no point in beating oneself up for a situation that's not in your hand.
"I thought let this be an opportunity to take a break. I'll now start looking for a job," she adds.
Sharma is among many such young people who have found themselves without a job overnight with global tech majors and several Indian start-ups handing out pink slips en masse.
Many of them that Business Standard spoke with said that after the initial shock and disbelief, they have been able to handle their situation with resilience.
One reason for this is the support that has been coming their way from perfect strangers through networking websites.
As Amazon layoffs hit home, LinkedIn, for instance, was flooded with people sharing their resumes for potential employers.
There were also professionals like Arsh Goyal, a senior software engineer at Samsung, who immediately got down to spreading the news and urging companies that had openings to consider those who had been laid off.
"Kindly share and help people reach out to the right set of companies who are still hiring for roles in the experience range of 0-3 years of experience.
"I have already been helping people to get to the right set of companies in my network who have been impacted and want your help too in this," he wrote in a post on LinkedIn.
A similar post was put out by Jaikumar Balani, lead software engineer with Unacademy: "Helping employees affected by massive layoffs at Amazon (1,000) and Goldman Sachs (500) in India alone.
"I heard from a few of my friends that a lot of people are scared to get the layoff email at Amazon and we all can relate to this pain."
His post carried the names of companies that were hiring.
Additionally, he also helped many of the people who had lost their jobs connect with potential employers.
Till his last update on January 17, he had received 140 resumes through direct messaging and had forwarded those to nearly 120 recruiters.
Human resources (HR) analysts and experts say that this is perhaps the most heartening trend to have emerged during this grim period – where people are talking about being laid off openly, without stigma, and are also getting recruited.
Kamal Karanth, co-founder Xpheno, a specialist staffing company, shares that there are three or four factors at play.
"First would be the proximity and the empathy factor.
"With the network effect at play, the layoffs are hitting closer home this time," he says.
"As we talk, a neighbour, friend or a relative is going through a layoff situation."
The second would be the opportunity factor.
If you are in the tech industry and are based in India, there are opportunities that are currently active and open.
"Jobs may not be in as high a supply as they were in 2021 or early 2022, but there's enough visible action.
"For instance, while start-ups laid off 20,000+ people last year, they also had – and currently have – 14K to 16K active job openings in the funnel," he adds.
The biggest shift that Karanth and other HR experts point to is that layoffs are not a social taboo anymore, especially for entry- and mid-level talent.
The talent found in the sub-30 group is agile and gets a positive break a month or two after a layoff.
Karanth elaborates, "Unlike in the past, family and social response or reaction to layoffs has toned down with improved awareness."
Of course, personal and professional situations maybe different for senior talent with larger commitments and lesser opportunities at play, he adds.
"Further, employers too do not view layoffs as a negative factor on resumes or in recruitment conversations," Karanth says, adding, "Also, remember, attrition may have marginally dropped in several companies and sectors, but the average attrition in the tech ecosystem as a key talent consumer is still well above 16-18 per cent."
The dark layoff cloud might just have a silver lining.
Source: Read Full Article