Mcap of 9 most valued firms jumps Rs 2.34 lakh cr
Nine of the top 10 valued firms together added Rs 2,34,097.42 crore in market valuation amid a positive trend in equities last week, with Reliance Industries emerging as the biggest gainer.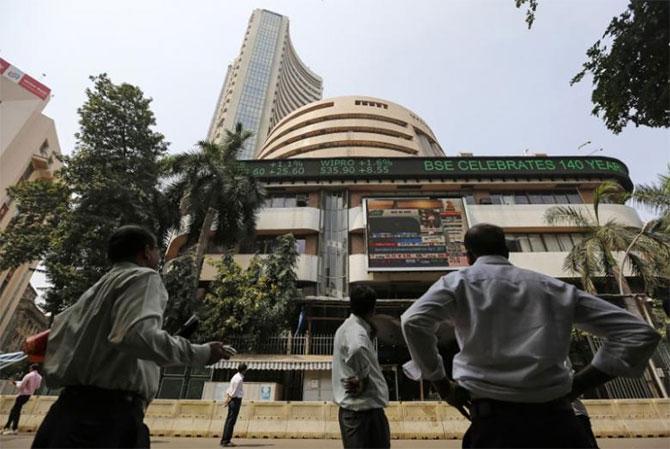 The 30-share BSE benchmark jumped 1,464.42 points or 2.54 per cent in a holiday-shortened last week.
Equity markets were closed on Thursday on account of 'Ram Navami'.
The market valuation of Reliance Industries zoomed Rs 86,317.26 crore to Rs 15,77,092.66 crore, the most among the top-10 firms.
Tata Consultancy Services (TCS) added Rs 30,864.1 crore, taking its valuation to Rs 11,73,018.69 crore.
HDFC Bank's market valuation rallied Rs 26,782.76 crore to Rs 8,98,199.09 crore and that of Infosys surged Rs 19,601.95 crore to Rs 5,92,289.92 crore.
The market capitalisation (mcap) of Hindustan Unilever climbed Rs 18,385.55 crore to Rs 601,201.66 crore and that of ICICI Bank advanced Rs 17,644.35 crore to Rs 612,532.60 crore.
State Bank of India's mcap went up by Rs 16,153.55 crore to Rs 467,381.93 crore and that of HDFC jumped Rs 12,155.78 crore to Rs 482,001.12 crore.
The mcap of ITC advanced Rs 6,192.12 crore to Rs 476,552.34 crore.
However, Bharti Airtel's valuation diminished by Rs 7,387.05 crore to Rs 417,577.59 crore.
Reliance Industries continued to remain the most valued firm followed by TCS, HDFC Bank, ICICI Bank, Hindustan Unilever, Infosys, HDFC, ITC, State Bank of India and Bharti Airtel.
Source: Read Full Article