Why luxury carmakers will see quicker transition to EVs
While Mercedes-Benz India expects 25 per cent of its India sales to come from EVs in the next four years, BMW says it estimates around 10 per cent of sales to come from those in the near future.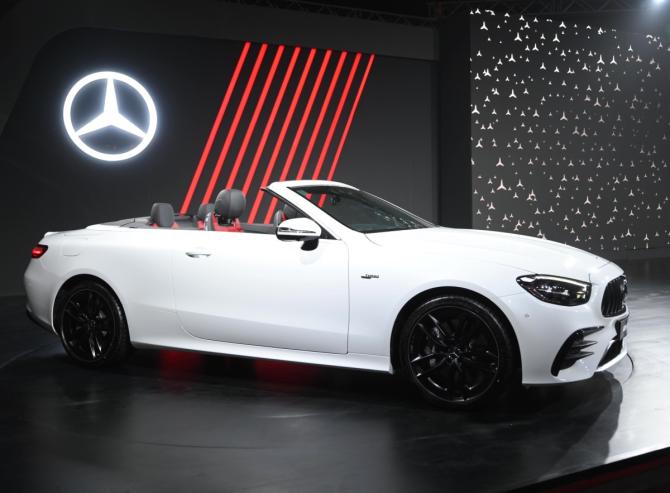 Adopting electric vehicles (EVs) is likely to be faster in the luxury vehicles segment because buyers are less price-sensitive and market leaders like Mercedes-Benz India and BMW India expect double-digit growth in this category.
While Mercedes-Benz India expects 25 per cent of its India sales to come from EVs in the next four years, BMW says it estimates around 10 per cent of sales to come from those in the near future.
Santosh Iyer, managing director and chief executive officer of Mercedes-Benz India, said: "An array of world-class products, convenience of a wide charging network comprising an ultra-fast charging network across main Indian cities, and supporting government policies towards green mobility have given a boost to the adoption of luxury EVs."
Iyer added: "We believe the luxury car segment will remain in the forefront of this EV adoption."
"We expect this penetration to grow faster in coming years. Conversion to EV will be faster in the luxury segment than in the rest of the industry," Iyer said.
Vikram Pawah, president, BMW Group India, pointed out the customer base for luxury cars had evolved in the last decade.
"Today climate neutrality unites people around the world; it touches our lives and mobilises us. Customers are now increasingly environment-conscious and want to make an active contribution to reducing carbon footprint. When product attributes are met with green solutions, there is an even more attractive proposition," he added.
BMW sold 347 electric cars in 2022, while Mercedes-Benz India sold over 400 EVs, the companies said.
Mercedes-Benz India sold 15,822 vehicles in 2022, while for BMW it was 11,981 cars during the year.
Overall, 37,000-38,000 luxury cars were sold in the country last year.
Close to 1 mn EVs were sold in India in 2022, a three-fold increase from the previous year, accounting for nearly 5 per cent of automobile sales in the country.
Pawah said the demand was phenomenal. The BMW iX, MINI SE, and BMW i4 were sold on launch.
"We are seeing a similar response to the BMW i7, launched just two days ago. We expect demand to grow further and EV contribution to increase to 10 per cent of overall sales. The demand for premium electric cars is set to grow in India," he added.
As for the newly launched BMW i7, Pawah said at present the demand was much more than the supply.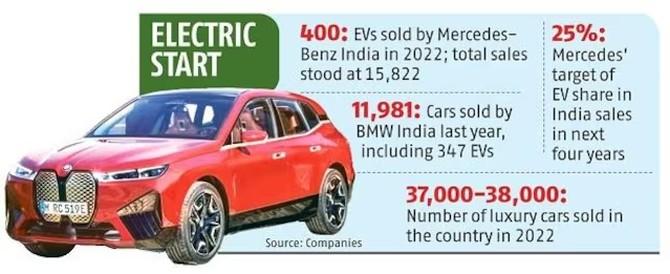 The luxury EV segment has grown in double digits, says Iyer. This led the carmakers to assemble some models locally.
Typically these cars are priced at Rs 1 crore and above. Thus industry insiders say more local assembly will help drive demand by cutting down on import duties.
Mercedes-Benz India retails four luxury EV models — EQB, EQS 580, EQS 53 AMG, and EQC. The locally made EQS is driving EV sales for Mercedes in India.
"Our current focus is to ramp up the production of the EQS, which has received an overwhelming market response. Hence, we do not plan to add EV models to the local assembly at this point. Globally we have an attractive portfolio of luxury EVs and many of these will be launched in India in the foreseeable future," Iyer said.
BMW has an electric sports activity vehicle (BMW iX), an electric hatchback (MINI SE), an electric sedan (BMW i4) and an electric limousine (BMW i7)
Pawah said from a pricing perspective also, all were priced well.
As for the local assembly of these cars, he said "production follows the market" and once a certain volume threshold was reached, they could consider that model's local production opportunities.
The industry feels charging infrastructure and taxation benefits will drive faster adoption.
"A strong public charging infrastructure will boost confidence among buyers. At the same time, private players are also helping by building their own infrastructure," Pawah said, adding that BMW Group India had the largest network of fast chargers in the country and they were open to customers of other electric car brands also.
Globally, luxury EVs are gaining ground — BMW doubled its BEV sales in 2022 over 2021, selling 215,755 vehicles.
By 2030, BMW Group aims to sell 10 million BEVs, accounting for 50 per cent of sales.
Feature Presentation: Rajesh Alva/Rediff.com
Source: Read Full Article