'It's ridiculous': Billionaire John Gandel slams super tax change
Billionaire property magnate John Gandel has slammed the federal government's proposed change to tax on superannuation, saying it is an unfair hit on those who had worked hard for their money.
Gandel made the criticism on Wednesday at the launch of a $70 million entertainment precinct at the huge Chadstone shopping centre in Melbourne's south-east that he co-owns with the Vicinity Centres property group.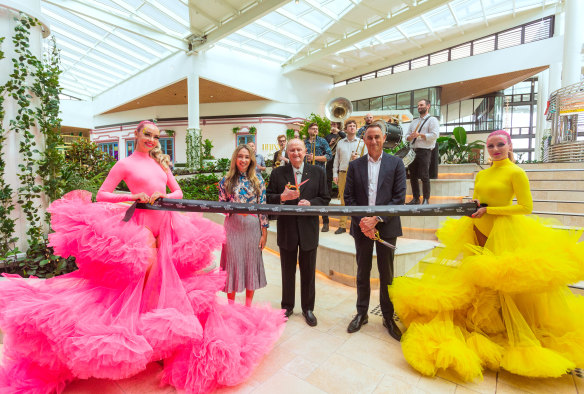 Stonnington Mayor Jami Klisaris (centre left), property magnate John Gandel (centre) and Vicinity Centres CEO Peter Huddle at the opening of the $70 million entertainment precinct at Chadstone shopping centre in Melbourne's south-east.
The mall magnate was frustrated by the government's decision to double the tax on earnings on superannuation balances over $3 million and said it would inevitably affect more than just the country's top earners.
"It's ridiculous," he said. "A tax hike on the top earners of the country who've worked hard in this country will always come down on the middle class."
The increase, from 15 per cent to 30 per cent, is to take effect from July 1, 2025, generating $2 billion in additional tax over four years. Opposition Leader Peter Dutton has vowed to repeal it if he wins the next election.
Treasurer Jim Chalmers has said the government is not coming after the super balances of ordinary Australians, such as the two-thirds who have less than $100,000 in their accounts. Instead, he pointed to the 17 people with more than $100 million in their super accounts and one person who had more than $400 million. The change will affect about 80,000 people.
Despite mounting pressures on households from inflation, rising interest rates and a slowing in spending, Gandel said he was confident consumers from Melbourne and elsewhere would spend at Chadstone's swanky new entertainment and dining precinct, the Social Quarter. It covers more than 10,350 square metres and has 17 businesses including a bowling alley, bars and a mix of mid-range and upmarket eateries.
"We don't have any competition; we are insulated at Chadstone shopping centre" Gandel said. "This is probably the fourth or fifth best shopping centre in the world."
The Australian Bureau of Statistics' recent retail trade figures showed retail turnover increased by 1.9 per cent in January from a 4 per cent fall in December.
"Looking through this volatility shows that turnover is at a similar level to September 2022, and on average, growth has been flat over the past few months," said Ben Dorber, ABS head of retail statistics.
Gandel said his recent visit to Dubai Mall, one of the world's largest, had reassured him about Chadstone as a world-class shopping destination."The elevators [in Dubai Mall] are too small for the amount of people there," he said. "We do well here."
Chadstone's other development, a $485 million revitalised fresh food precinct will open in 2024 and, combined with the Social Quarter, will generate 7.7 per cent of Chadstone's total gross leasable area by 2024.
The centre posted $2.6 billion dollars in revenue at the end of December 2022, with luxury sales soaring by 55.8 per cent to hit more than $1 billion annually, leading to a revaluation of Chadstone to $3.25 billion, up 1.7 per cent.
The investment in the luxury segment, including more than 40 high-end brands at Chadstone, paid off for co-owner Vicinity Centres, leading it to an earnings forecast of between 14¢ and 14.6¢ a unit for the full year, up from between 13¢ and 13.6¢ a unit previously.
"We've absolutely thought through the planning of Chadstone," Gandel said at Wednesday's launch event.
The Business Briefing newsletter delivers major stories, exclusive coverage and expert opinion. Sign up to get it every weekday morning.
Most Viewed in Money
From our partners
Source: Read Full Article