Jobless claims climb to 220,000 from half-century low
US economy could experience inflation until 2023: Expert
Main Street Asset Management CIO Erin Gibbs and Moody's Chief Economist John Lonski on how inflation is impacting the U.S. economy. 
The number of Americans filing for unemployment benefits last week rose off the lowest levels since the outbreak of the COVID-19 pandemic.
Figures released Thursday by the Labor Department show that applications for the week ended Nov. 27 climbed to 222,000 from a revised 194,000 a week earlier, easily topping the 240,000 forecast by Refinitiv analysts.
FED TO TAPER BOND PURCHASES BY $15B A MONTH AS IT EXITS PANDEMIC-ERA POLICY
"While the backdrop of uncertainty regarding omicron definitely isn't helping the market, we're getting some relatively positive news on the labor market front," said Mike Loewengart, managing director at E*Trade Financial. 
"That said, these numbers are backward-looking, so with the new variant coming to light only in the past week, it remains to be seen how it could play a role in effecting the workforce and our economic recovery at large."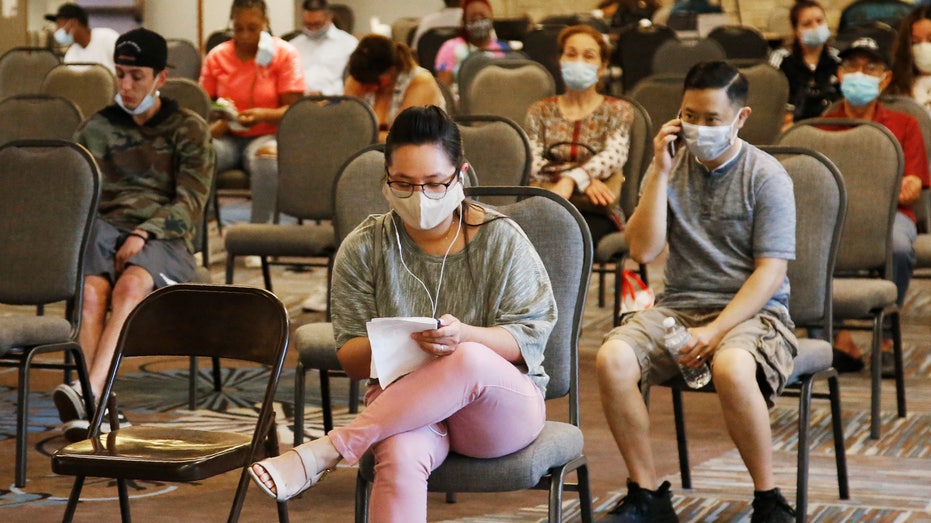 People wait to speak with representatives from the Oklahoma Employment Security Commission about unemployment claims Thursday, July 9, 2020, in Midwest City, Oklahoma.  (Associated Press)

Continuing claims, or the number of Americans who are consecutively receiving unemployment aid, fell to 1.956 million, a decrease of 107,000 from the previous week. That is the lowest level for insured unemployment since March 14, 2020, when it was 1.77 million. 

The report shows that roughly 2.3 million Americans were collecting jobless benefits for the week ending Nov. 13, an increase of 21,564 from the previous week; by comparison, just a little over one year ago, an estimated 20.7 million Americans were receiving benefits. 
U.S. employers added a robust 379,000 jobs last month, the most since October and a sign that the economy is strengthening. (AP / AP Newsroom)

Claims have continually declined as the economy recovers from the pandemic and Americans venture out to travel, shop and eat. Businesses have struggled to keep up with the demand, however, and have reported difficulties in onboarding new employees. Thursday's report suggests that companies are making an effort to retain the workers they already have.

GET FOX BUSINESS ON THE GO BY CLICKING HERE

The Labor Department reported earlier this month that there were 10.4 million open jobs at the end of September. Though little changed from the end of August, it's still a staggeringly high figure; there are about 3 million more open jobs than unemployed Americans looking for work.  

Source: Read Full Article