EV Roundup: Nikola Gets $41.9M Fund, Blink Partners With AAA & More
Last week, Tesla announced second-quarter 2023 delivery numbers. The record-breaking numbers were driven by the Model 3 and Model Y, which accounted for approximately 96% of the total deliveries this quarter. The deliveries exceeded expectations, reflecting on TSLA's leadership position in the electric vehicle (EV) market as the company continues to expand its production and sales globally. The EV king sold a record 466,140 (446,915 Model 3 and Y and 19,225 Model S and X) cars worldwide in the second quarter. The metric is up 83% from the year-ago quarter's levels and 10% from the prior quarter's numbers. It produced a record 479,700 (460,211 Model 3 and Y, and 19,489 Model S and X) vehicles during the quarter.
EV upstart Rivian Automotive, Inc. also announced its second-quarter 2023 production and delivery numbers. Blink Charging Co., a leading manufacturer and provider of EV charging equipment, partnered with the American Automobile Association (AAA) to power America's EV infrastructure. Nikola Corporation received a $41.9-million California grant for hydrogen fuel cell technology. This award not only highlights Nikola's influence in the zero-emission vehicle sector but also marks a leap forward for California's commitment to a cleaner, more sustainable future. Meanwhile, China's noted EV maker NIO Inc. also unveiled its June and second-quarter deliveries.
Last Week's Top Stories
Rivian produced 13,992 vehicles, up 48.9% quarter over quarter and 280% year over year. It delivered 12,640 vehicles, up 59% quarter over quarter and 183% year over year. The automaker stated that it is on track to deliver the 50,000-unit annual production guidance provided previously. The company also noted that its R1 platform continues to show robust quarter-over-quarter growth. After a slow start in the first quarter, Rivian emphasized streamlining production and cost-cutting to accelerate output. A strong improvement in production at the Normal, IL, facility in the second quarter backed the company's strategy of accelerating output.
Last month, Claire McDonough, CFO of Rivian, said that the company is experiencing some relief on supply chain issues, which were concerns for the industry in the past few years. McDonough added that Rivian's Enduro production ramp is ahead of schedule and the company is seeing a "robust backlog of preorders that extends into 2024."
Meanwhile, Rivian's electric delivery vans made its debut in Europe to deliver Amazon's packages across major cities in Germany. The e-commerce giant recently announced that more than 300 electric vans are set to hit the roads of Munich, Berlin and Dusseldorf in the coming weeks.
Blink announced a strategic partnership with AAA. Per the terms, Blink will become a preferred supplier, extending its top-tier EV charging products and services to AAA service providers nationwide. This alliance builds upon their existing relationship and signifies a critical step in adapting to the rapid growth of EVs on American roads.The immediate impact of this partnership will be felt by 19 AAA clubs and their affiliates, encompassing more than 60,000 locations across the nation. Through a streamlined ordering process and preferential pricing options, these entities are set to experience substantial cost savings. With additional EV charging solutions at their disposal, AAA clubs hope to attract more drivers and increase their membership base.
The ultimate beneficiaries of this collaboration will be EV drivers. This collaboration, if executed well by AAA and Blink, can revolutionize the experience for EV drivers across the United States once the scale of operations reaches maturity.
With Blink's extensive product range, this partnership will equip roadside assistance providers with the necessary tools and skills to serve EVs more effectively. It aims to reassure EV drivers that their unique needs are anticipated and adequately catered to, thereby encouraging more drivers to transition to electric vehicles.
Nikola, a clean energy vehicle maker, secured a $41.9-million grant from the California Transportation Commission (CTC). The grant was awarded under the Trade Corridor Enhancement Program to help build six heavy-duty hydrogen refueling stations across Southern California, in partnership with the California Department of Transportation (Caltrans). This funding is expected to spur the development and adoption of zero-emission vehicle freight technology across the state. It aligns with California's Statewide Truck Parking Study, providing a safe place for truck drivers to park.
Apart from fostering environmental health, this project aims to reduce local noise pollution, facilitate refueling for 80-100 trucks per station per day and establish Nikola's zero-emission infrastructure ahead of the anticipated surge in the adoption of hydrogen fuel-cell electric vehicles.
Nikola is focused on promoting hydrogen fuel cell electric trucks as a sustainable alternative for heavy-duty transportation, prioritizing open-access stations. With the increasing adoption of this technology, Nikola is well-positioned to lead in the hydrogen fuel cell sector.
NIO delivered 10,707 vehicles in June, down 17.4% year over year. The deliveries included 6,383 premium smart electric SUVs and 4,324 premium smart electric sedans. NIO delivered 23,520 vehicles in the second quarter of 2023, down 6.1% year over year. Cumulative deliveries of NIO vehicles reached 344,117 as of Jun 30, 2023. On Jun 15, NIO launched ET5 Touring and started delivering it the next day. Year to date, the company has delivered 54,561 vehicles, up 7.3% year over year. Its monthly deliveries are up 15% from May's figure of 6,155 vehicles.
Meanwhile, NIO's peers XPeng and Li Auto delivered 8,620 and 32,575 vehicles, respectively, in June. XPeng delivered 23,205 vehicles in the second quarter of 2023, down 32.6% year over year. Li Auto delivered 86,533 vehicles in the second quarter of 2023, up 201.6% year over year.
NIO currently carries a Zacks Rank #3 (Hold). You can see the complete list of today's Zacks #1 Rank (Strong Buy) stocks here.
Price Performance
The following table shows the price movement of some of the major EV players over the last week and six-month period.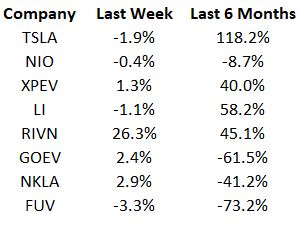 Image Source: Zacks Investment Research
What's Next in the Space?
Stay tuned for announcements of upcoming EV models and any important updates from the red-hot industry.
4 Oil Stocks with Massive Upsides
Global demand for oil is through the roof… and oil producers are struggling to keep up. So even though oil prices are well off their recent highs, you can expect big profits from the companies that supply the world with "black gold."
Zacks Investment Research has just released an urgent special report to help you bank on this trend.
In Oil Market on Fire, you'll discover 4 unexpected oil and gas stocks positioned for big gains in the coming weeks and months. You don't want to miss these recommendations.
Download your free report now to see them.
Want the latest recommendations from Zacks Investment Research? Today, you can download 7 Best Stocks for the Next 30 Days. Click to get this free report
Tesla, Inc. (TSLA): Free Stock Analysis Report
Blink Charging Co. (BLNK): Free Stock Analysis Report
NIO Inc. (NIO): Free Stock Analysis Report
Nikola Corporation (NKLA): Free Stock Analysis Report
Rivian Automotive, Inc. (RIVN): Free Stock Analysis Report
To read this article on Zacks.com click here.
Sponsored: Find a Qualified Financial Advisor
Finding a qualified financial advisor doesn't have to be hard. SmartAsset's free tool matches you with up to 3 fiduciary financial advisors in your area in 5 minutes. Each advisor has been vetted by SmartAsset and is held to a fiduciary standard to act in your best interests. If you're ready to be matched with local advisors that can help you achieve your financial goals, get started now.
Source: Read Full Article