South Korea says US Chips Act subsidies have too many requirements
video
CHIPS Act subsidies imposing progressive priorities through corporations: Kudlow
Steve Forbes and John Carney talk restoring pro-growth economic policies and the cost of President Biden's regulatory agenda on 'Kudlow.' 
The U.S. Chips Act is dangling billions of dollars in subsidies in front of the world's biggest semiconductor manufacturers, but South Korea says there are too many strings attached.
The conditions for receiving the subsidies unveiled last week are putting two of South Korea's biggest chip makers—Samsung Electronics Co. and SK Hynix Inc.—in a difficult position as they decide whether to apply for the federal funding, government officials and industry analysts said.
South Korea's minister of trade, industry and energy described the requirements under the $53 billion chip subsidy program as vast and unconventional. Asking firms to submit information about their management and technology could expose them to business risks, the official, Lee Chang-yang, said Monday. The demand that companies offer child care for employees, together with rising interest rates and inflation, would drive up the already high cost of investing in the U.S., he said.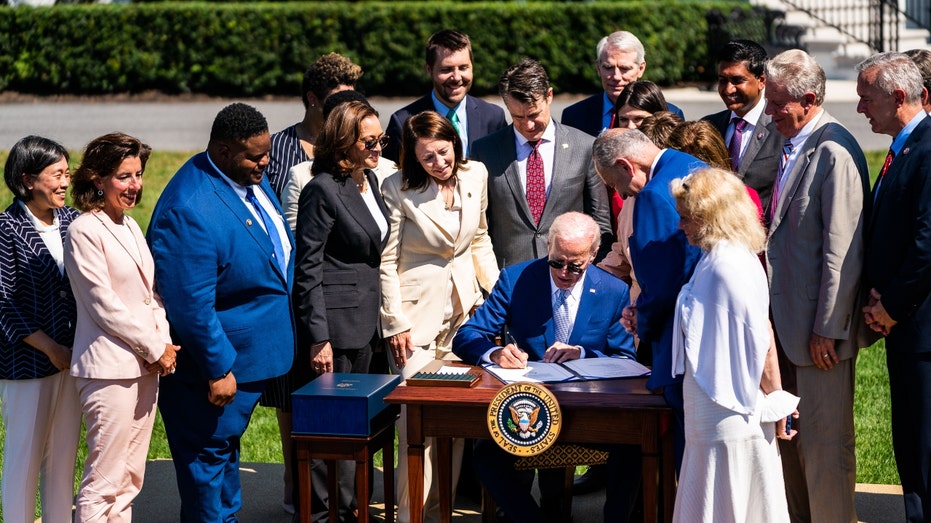 US President Biden signs into law the CHIPS and Science Act of 2022, on the South Lawn of the White House in Washington, Tuesday, August 9, 2022. South Korea has protested that the Chips Acts progressive and protectionist policies will make it expens ((Photo by Demetrius Freeman/The Washington Post via Getty Images) / Getty Images)

"There are many unusual conditions that are completely different from the subsidies we generally provide for foreign investment," said Mr. Lee. He said South Korean officials were discussing those terms with their U.S. counterparts.

US AIMS TO CREATE SEMICONDUCTOR MANUFACTURING CLUSTERS WITH CHIPS ACT FUNDS

Samsung and SK Hynix would also face new restrictions on expanding their chip production facilities based in China if they were to apply for the U.S. chip subsidies.

South Korea's trade minister, Ahn Duk-geun, will be in Washington, D.C., this week to meet with high-level U.S. government officials, the Ministry of Trade, Industry and Energy said Tuesday. The ministry said it would make the same points in Washington that Mr. Lee outlined in his remarks and stress that if the U.S. wants to stabilize and advance its semiconductor supply chain, it will need the cooperation of South Korean companies.

The U.S. has said many of the requirements in the program are intended to safeguard taxpayer investments and give awards based on rigorous financial analysis and due diligence.

"We are not writing blank checks to any company that asks," Commerce Secretary Gina Raimondo said last week. The Commerce Department didn't immediately respond to a request for comment on the South Korean minister's remarks.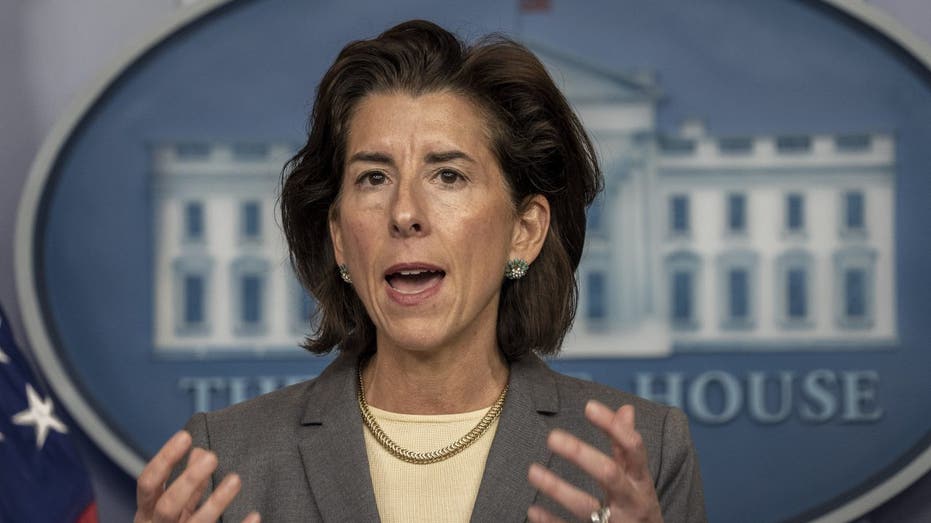 Gina Raimondo, U.S. commerce secretary, speaks during a news conference in the James S. Brady Press Briefing Room at the White House in Washington, D.C., U.S., on Tuesday, Nov. 9, 2021. The U.S. expects to begin talks with the U.K. and Japan aimed at (Photographer:Ken Cedeno/UPI/Bloomberg via Getty Images / Getty Images)

The U.S. is seeking to attract more chip production facilities, with the goal of creating at least two manufacturing clusters for cutting-edge semiconductors by 2030, according to the Commerce Department. 

PENTAGON TO REAP REWARDS FROM $53B CHIPS ACT

In addition to Samsung and SK Hynix, top candidates for the subsidy program include Taiwan Semiconductor Manufacturing Co., the world's largest contract chip maker, and Intel Corp. Samsung and SK Hynix said they are reviewing the terms and declined to comment further. TSMC declined to comment. Intel has said the Chips Act would make American companies more competitive and restore global balance in the chip making industry.
Ticker
Security
Last
Change
Change %
TSM
TAIWAN SEMICONDUCTOR MANUFACTURING CO. LTD.
88.85
-0.73
-0.81%
INTC
INTEL CORP.
25.53
-0.46
-1.77%
Samsung and SK Hynix are the world's two largest memory chip makers. Samsung is building a $17 billion contract chip-making factory for producing cutting-edge semiconductors in Taylor, Texas. SK Group, the owner of SK Hynix, pledged last year to invest $15 billion in semiconductor research and development and facilities for advanced packaging in the U.S. 

The Chips Act includes a host of financial provisions. Companies that accept the subsidies are required to share with the U.S. government a portion of their profits that exceed initial projections by an agreed-upon threshold, while refraining from using federal funds for stock buybacks dividends.

"This so-called profit-sharing clause is essentially taking away what they gave" through the subsidies, said Kim Yang-paeng, a senior researcher covering semiconductors at the Korea Institute for Industrial Economics and Trade, a state-run think tank.

Companies are concerned about requirements to turn over information about profit projections and factory production because they are considered carefully guarded trade secrets, said Mr. Kim. "Even though all subsidies inevitably come with preconditions, what the U.S. is asking for here may be too much and beyond what's necessary," he said.  

The Chips Act requires firms to create plans around workforce development. Some policy analysts have criticized a requirement for firms that receive over $150 million or more in subsidies to provide affordable child care for facility and construction workers, saying the rule will add to the costs. Others, however, say the added expense would be offset by the subsidies, combined with other tax credits the U.S. offers for building chip plants.

The Commerce Department has stressed that child care provisions are necessary to ensure qualified workers are able to participate in the program. Ms. Raimondo has pointed to a lack of child care as the single-most significant factor keeping people, particularly women, out of the workforce.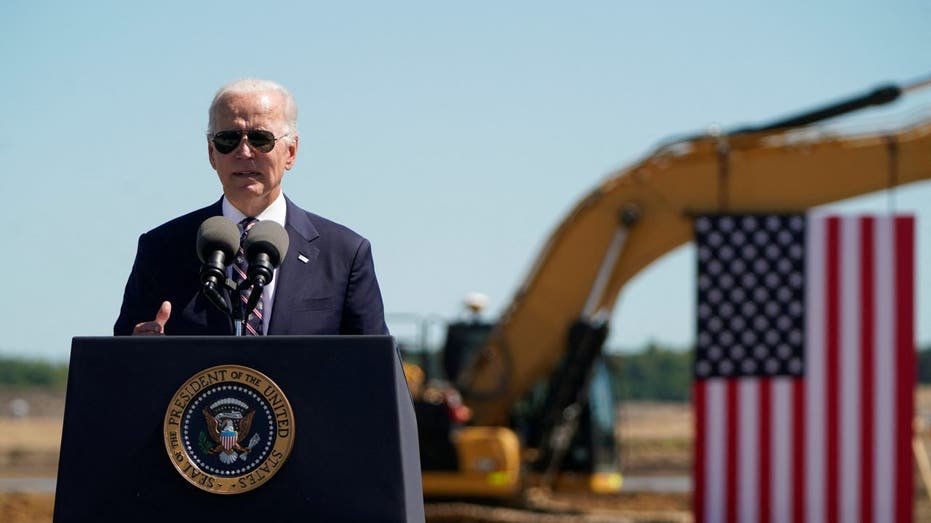 U.S. President Joe Biden speaks on rebuilding American manufacturing through the CHIPS and Science Act at the groundbreaking of the new Intel semiconductor manufacturing facility in New Albany, Ohio, Sept. 9, 2022.  (Reuters/Joshua Roberts / Reuters Photos)

The subsidies are partly aimed at offsetting the higher cost of manufacturing in the U.S. TSMC executives have expressed concerns about the financial downsides and challenges of re-creating their supply chain—which they have built in Taiwan over decades—in the U.S. TSMC founder Morris Chang has said the costs of making chips in Arizona, where the company is building a cutting-edge chip factory, may be at least 50% higher than in Taiwan.

South Korea's pushback against the terms of the chip subsidies highlights the challenges the U.S. faces in furthering its domestic interests while trying to convince allies to join in its efforts to counter China.

Firms that receive the chip subsidies are barred from engaging in joint research and technology licensing efforts or expanding semiconductor manufacturing capacity in "countries of concern" for 10 years. Mr. Lee didn't mention the restriction that people in the chip industry refer to as the "China guardrail" in his Monday remarks, but it would mean Samsung and SK Hynix, which have invested in building up a production base in China, wouldn't be able to expand their capacity there. 

Samsung operates a NAND flash memory-chip plant in the central Chinese city of Xi'an and a chip-packaging facility in the eastern city of Suzhou. SK Hynix operates DRAM memory-chip production facilities in the city of Wuxi, and owns Intel Corp.'s NAND flash memory-chip factories in Dalian through a deal struck in 2020. TSMC operates chip-making facilities in the Chinese cities of Nanjing and Shanghai.

CLICK HERE TO GET THE FOX BUSINESS APP

The companies are already facing dilemmas over how to manage their operations in China after the U.S. last year restricted exports to China of advanced chips and the equipment used to produce them. The U.S. granted TSMC, Samsung and SK Hynix one-year exemptions from those rules.  

Washington hasn't definitively said what would happen at the end of that period, but Undersecretary of Commerce for Industry and Security Alan Estevez said last month that the U.S. is likely to put a cap on the firms' chip production in China beyond a specified technology level.

Source: Read Full Article