Africa Heralds Onset of Free-Trade Pact After Years of Talks
The first goods will begin to flow under an Africa-wide free-trade pact on Friday, the culmination of more than five years of negotiations on cutting cross-border tariffs.
The accord comes to fruition at a time when trade tensions are rising across much of the rest of the world. The 55-nation Africa Union will mark the occasion in a ceremony that comes just hours after the U.K. leaves the European Union's single market and a new post-Brexittrade agreement enters into force.
Africa could be the world's biggest free-trade zone by area when its treaty becomes fully operationally by 2030. The bloc has a potential market of 1.2 billion people and a combined gross domestic product of $2.5 trillion.
Africa is ready for intra-African trade, one African market, breaking trade barriers, and boosting African economies.
Join us for the launch ceremony of the #AfCFTA #StartofTrading
http://bit.ly/AfCFTAStartOfTrading…
#OneAfricanMarket #IntraAfricanTrade #Africa #BreakingTradeBarriers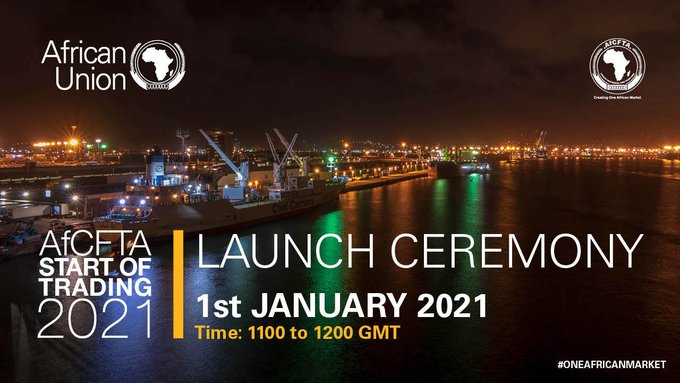 8:01 AM · Dec 30, 2020
119
71 people are Tweeting about this