At least four people killed, eight injured in Louisville shooting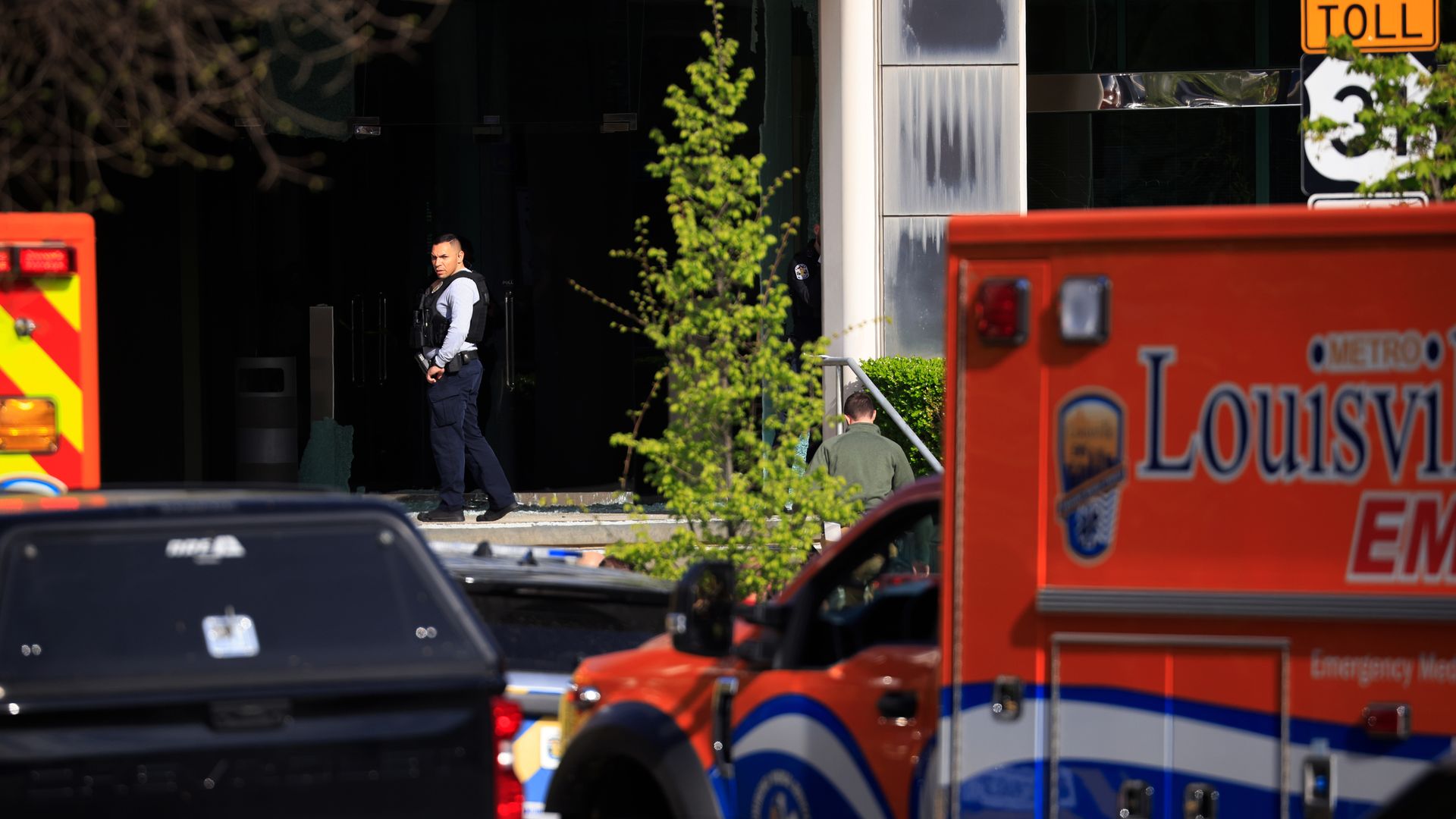 Law enforcement officers respond to an active shooter near the Old National Bank building on April 10 in Louisville, Kentucky. Photo: Luke Sharrett/Getty Images
At least four people are dead and eight others have been transported to the University of Louisville hospital after a shooting at a bank Monday in Louisville.
Driving the news: Police exchanged gunshots with the suspected shooter, who died at the scene, authorities said Monday.
At least two officers were shot during the exchange, including one who is currently in surgery and in critical condition.
One other individual is believed to be in critical condition at the hospital, police said.
Police believe the suspected shooter had a connection to the Old National Bank, where the shooting occurred.
"We are trying to establish what that connection was to the business, but it appears he was a previous employee," authorities said.
Authorities are working to confirm whether the suspected shooter died of self-inflicted wounds.
Louisville police said that calls came in at around 8:30 a.m. for an "active aggressor" at the Old National Bank in downtown Louisville, which is next to Louisville Slugger Field.
"LMPD has confirmed a shooting situation in downtown Louisville with multiple casualties," Kentucky Gov. Andy Beshear (D) wrote in a tweet.
"I am headed there now. Please pray for all of the families impacted and for the city of Louisville."
The big picture: The shooting in Louisville comes just two weeks after a mass shooting at a school in Nashville killed six people, including three children.
FBI Louisville special agents have responded to the scene of the shooting and are assisting law enforcement.
Police say that there is no longer a danger to the public, but LMPD is asking the public to avoid the area.
What they're saying: "This is awful. I have a very close friend that didn't make it today and I have another close friend who didn't make it, either, and one who is at the hospital that I hope is gonna make it through," Beshear said Monday.
Senate Minority Leader Mitch McConnell (R-Ky.) said Monday that he and his wife, Elaine Chao, "are devastated by the news coming out of Louisville this morning."
"Thank you to LMPD and our first responders for your bravery at the scene," he wrote in a tweet.
Editor's note: This story has been updated and corrected per LMPD to note that four people were killed, not 5. An earlier version counted the shooter.
This is a developing story. Please check back for updates.
Source: Read Full Article