Biden's $2.25T spending plan sparks criticism from progressives and GOP lawmakers
Biden's 'losing' moderate Democrat support in the House: Former OMB director
Former OMB director Russ Vought discusses the impact of President Biden's spending bill, arguing that there are 'warning clouds on the horizon.'
President Biden on Wednesday unveiled an ambitious, $2.25 trillion spending measure this week that his administration is billing as a once-in-a-lifetime chance to overhaul the nation's infrastructure, but the proposal is already sparking pushback from Democrats and Republicans alike.
The eight-year initiative, dubbed the American Jobs Plan, would make massive investments in the nation's roads and bridges, as well as transit systems, schools and hospitals. It would be funded by raising the corporate tax rate to 28% from 21% – rolling back part of former President Donald Trump's 2017 tax cuts – and increasing the global minimum tax on U.S. corporations to 21% from 13%.
"It's big, yes, it's bold, yes, and we can get it done," Biden said in a Wednesday afternoon speech in Pittsburgh. "In 50 years, people are gonna look back and say: This was the moment that America won the future."
WHAT'S IN BIDEN'S $2.2T INFRASTRUCTURE AND TAX PROPOSAL?
But the proposal faces a steep, possibly months-long, road to passage in Congress: Republicans have already started to attack it as a "trojan horse" for major tax hikes and big-liberal spending proposals, while progressive Democrats have argued the measure doesn't go far enough in addressing climate change or other issues.
"I'm going to fight them every step of the way, because I think this is the wrong prescription for America," Senate Minority Leader McConnell said Thursday during a news conference in Kentucky.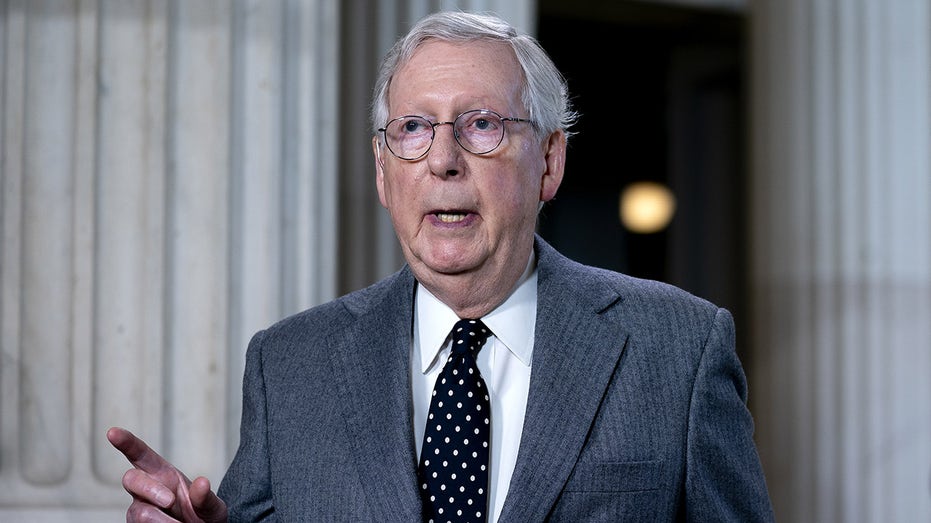 Senate Minority Leader Mitch McConnell, a Republican from Kentucky, speaks during a television interview at the Russell Senate Office Building in Washington, D.C., on Wednesday, March 3, 2021. (Photographer: Stefani Reynolds/Bloomberg via Getty Image

Unless 10 Republicans break with McConnell, or the White House significantly changes its offer, Democrats will almost certainly have to pass the measure via budget reconciliation, the obscure Senate rule the party used last month to approve Biden's $1.9 trillion American Rescue Plan without a single GOP vote. Not only has Biden said he wants to secure bipartisan support, he campaigned heavily on ending partisan bickering and bringing together both sides of the political aisle.

What's more, some Democratic lawmakers have also criticized the proposal, which they say does too little over the next eight years. Biden plans to announce a second initiative in April that will focus on child care, family tax credits and health care, funded by new taxes on wealthy Americans.

BIDEN'S PLANNED TAX HIKES COULD BE 'DEVASTATING' FOR DEMOCRATS IN 2022

Rep. Pramila Jayapal, D-Wash., chair of the Congressional Progressive Caucus, called Biden's proposal a "welcome first step," but said climate change demands the package be "substantially larger in size and scope."

"It makes little sense to narrow his previous ambition on infrastructure or compromise with the physical realities of climate change," Jayapal said.

At the same time, a group of moderates in the House said they will only approve the measure if it repeals the $10,000 taxpayer limit on deducting state and local taxes, or SALT, that was put into place under Trump. But eliminating the SALT deduction cap would require Democrats to vote for a policy that disproportionately benefits wealthy Americans living in blue states like New York and New Jersey.

GET FOX BUSINESS ON THE GO BY CLICKING HERE

"I can only vote for a bill that has meaningful tax impact for my constituents if it addresses the SALT cap," Rep. Tom Malinowski, D-N.J., tweeted. He's one of our lawmakers demanding the American Jobs Plan restore SALT deductions.

CLICK HERE TO READ MORE ON FOX BUSINESS

If Democrats decide to pass the measure on a party-line vote via reconciliation, they can stand to lose no members in the Senate and just three in the House, assuming all GOP lawmakers are aligned against the bill.

The White House has said it welcomes feedback from lawmakers on how best to address infrastructure, which is broadly viewed as a bipartisan issue in Washington.

"Once he proposes that our focus is also on having that engagement and discussion with members of Congress," White House press secretary Jen Psaki said earlier this week. "If they share a goal of building our infrastructure for the future but don't like the way he's going to propose to pay for it, we're happy to look at their proposals."

Source: Read Full Article