Democrats lump DeSantis with Trump in battleground state push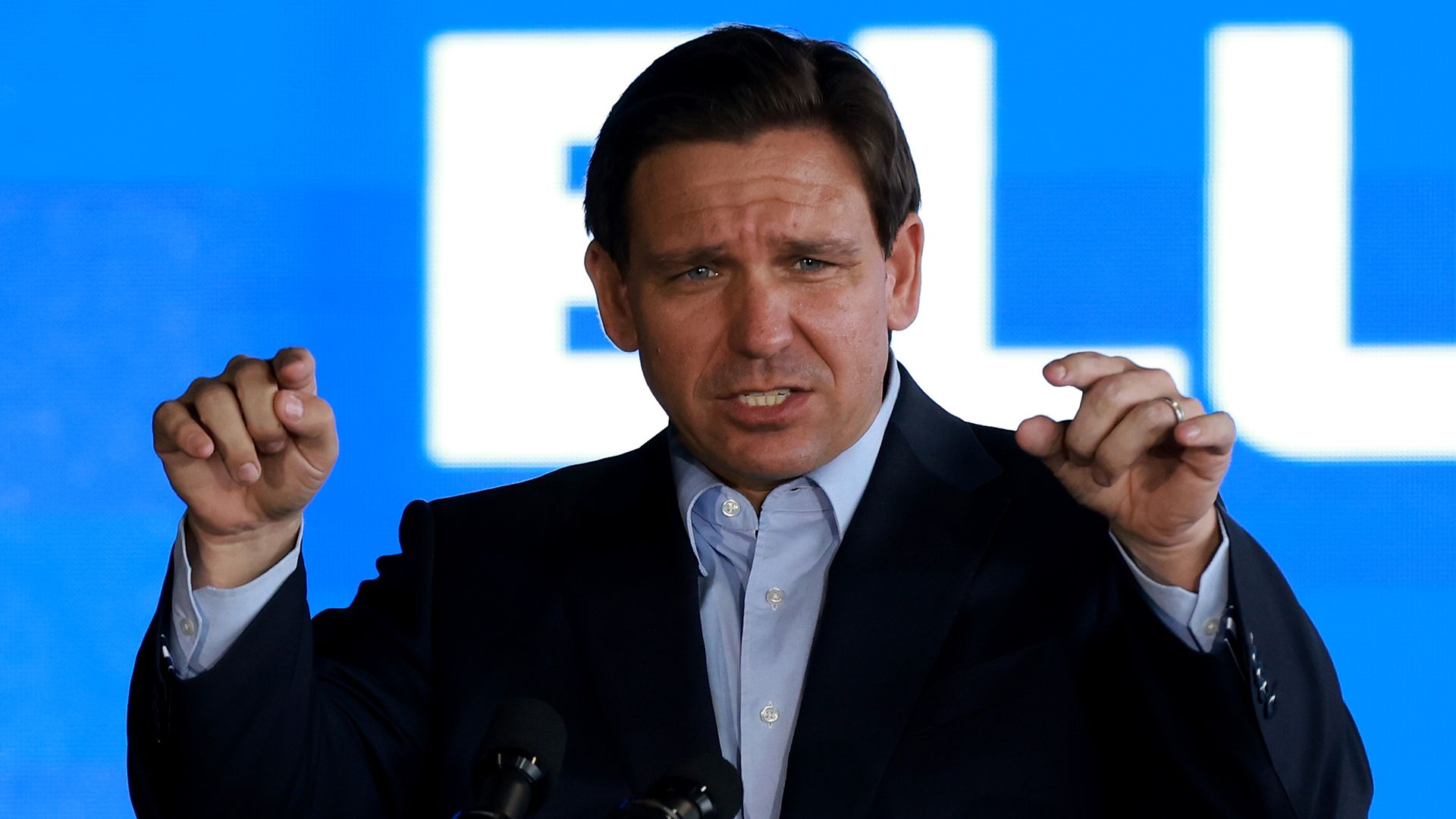 Photo: Joe Raedle/Getty Images
He's not even officially running against President Biden (yet), but Democrats are already using Florida Gov. Ron DeSantis in battleground state ads urging voters to stick with Biden in 2024.
Why it matters: Dems are betting DeSantis' culture-war politics are a turnoff to women and working-class voters in rural counties, and they're lumping him with former President Trump and House Speaker Kevin McCarthy in messages about battling "extremists."
Driving the news: American Bridge 21st Century, a liberal PAC that supports Democratic candidates, is releasing a six-figure TV and radio ad campaign across North Carolina, Michigan, Wisconsin, and Pennsylvania.
Biden won all but North Carolina in 2020.
The 60-second TV and radio spots will play across the Greensboro, NC; Flint, MI; Erie, PA; and Green Bay, WI media markets starting on Friday.
Zoom in: The pro-Biden ads highlight their efforts to lower insulin costs, protect Social Security and Medicare, and pass bipartisan infrastructure legislation.
Though the ads don't name Trump, DeSantis, or McCarthy, they feature video clips of each as the narrator says that Biden is "battling extremists" who are "MAGA Republicans who oppose these common-sense investments."
"We've seen extremism on the Republican side bring more women into the fold for Democrats since 2017," American Bridge co-founder Bradley Beychok told Axios. "We want to be communicating with them in all mediums."
The big picture: The ad campaign is an opportunity for Democrats to start engaging key voter blocs on what Biden has accomplished at a time when polls show a majority of Americans think he's not done much at all in his first two years.
While exit polling found that he was able to chip away at Trump's 2016 support with rural voters, he failed to cement them as part of the Democratic Party's coalition.
Zoom out: Biden and his Cabinet have been fanning out across the country since his State of the Union address to sell his economic agenda in over 20 states, with an eye toward working-class voters.
The president unveiled a "blue-collar blueprint to rebuild America" at this year's State of the Union — the start of "a fierce campaign to win back white working-class voters through the creation of hundreds of thousands of well-paid jobs that do not require a college degree," per the NYT.
Democrats made gains with rural voters in the 2022 midterms.
Meanwhile, women and suburban voters helped Democrats win key races across the country.
Source: Read Full Article