House Republicans eye congressional support staff as next oversight target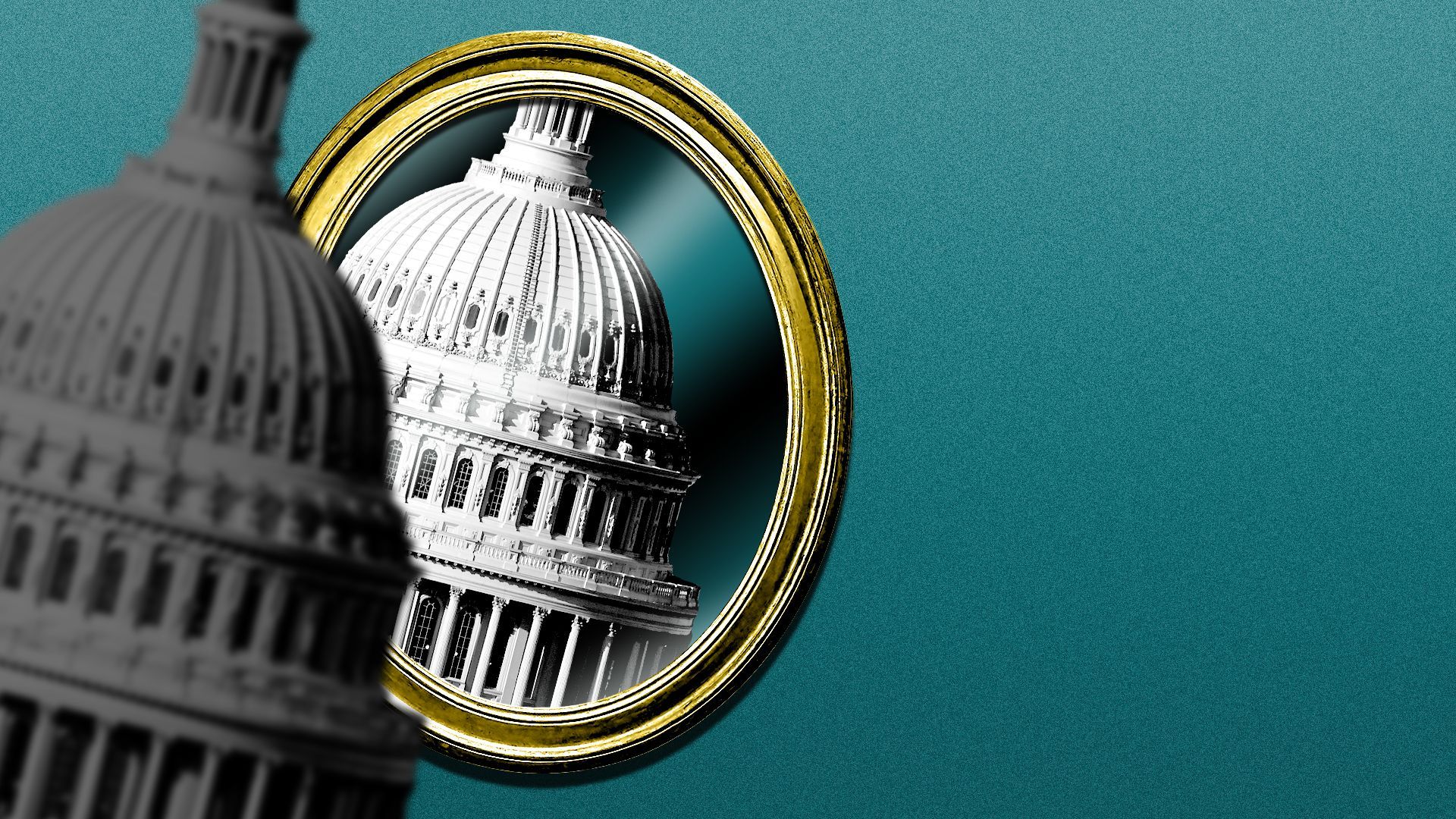 Illustration: Brendan Lynch/Axios
A little-noticed committee is offering a glimpse into the House GOP's priorities for governing a post-pandemic America.
Why it matters: Republicans want to dislodge nonpartisan offices from the thumb of House leadership, two senior GOP aides told Axios.
The Committee on House Administration's stated mission is decentralizing power and depoliticizing Congress' support staff.
It's laying the groundwork to investigate the officials and policies under which the chamber has operated since 2019.
It's specifically targeting offices dealing with security and health in the wake of Jan. 6 and during the height of COVID.
Driving the news: The committee, led by Rep. Bryan Steil (R-Wisc.), is set to adopt its 9-page oversight plan on Tuesday morning.
A copy of the plan, obtained by Axios, includes pledges to:
Conduct "thorough oversight of the resources dedicated to post-January 6th security improvements" and "implement plans that enhance the security of the Capitol campus."
Investigate the alleged "politicization" of the Capitol Police and transition the Sergeant-at-Arms to a more "traditional oversight entity."
"Review the Office of the Attending Physician's actions during the COVID-19 pandemic, including the issuing of inconsistent guidance between the House and the Senate."
Between the lines: The GOP aides said some ways House Democrats exercised control when they were in the majority included installation of metal detectors outside the House chamber after Jan. 6 and decisions over who got security details.
Last Congress, Republicans rebelled against the House's mask mandate and COVID restrictions and put out a competing Jan. 6 report focused on alleged Capitol Police leadership failures and proposed Capitol security improvements.
Zoom in: Republicans have complained that members like former Rep. Lee Zeldin (R-N.Y.) — who was attacked at a 2022 campaign event —weren't given a security detail despite details for former Trump impeachment managers and Jan. 6 committee members.
Former Rep. Rodney Davis (R-Ill.) told Axios last year: "Zeldin almost gets stabbed – there should've immediately been a Capitol Police detail going to New York to protect him."
Republicans also alleged partisan enforcement of metal detector fines, and Rep. Troy Nehls (R-Texas) had a spat with the Capitol Police over an officer entering his office.
What we're watching: Steil will say Tuesday that Brett Blanton's removal was a "strong start right out of the gate" which demonstrates that "when we work together in a nonpartisan way, we can deliver results for the American people," according to a copy of his opening remarks.
President Biden dismissed Blanton as Architect of the Capitol after a brutal Admin Committee hearing in which lawmakers grilled him for alleged abuse of official resources.
Source: Read Full Article