TikTok CEO to testify as social media giant faces ban over China ties
video
TikTok's too-big-to-ban argument is more reason to prohibit the app: Helberg
Former Google policy adviser Jacob Helberg discusses TikTok CEO Shou Zi Chew upcoming testimony in front of Congress on "Cavuto: Coast to Coast."
TikTok CEO Shou Zi Chew is set to testify before the House Energy and Commerce Committee on Thursday as the massive social media platform faces a potential ban over national security concerns that stem from its China-based parent company, ByteDance.
At a recent congressional hearing on worldwide threats, FBI Director Christopher Wray testified that TikTok – by virtue of its more than 150 million U.S. users – has the power to "drive narratives" and "divide Americans" through the manipulation of its content algorithm. Noting that ByteDance is based in China and required by law to comply with requests made by the Chinese Communist Party, Wray said, "This is a tool that is ultimately within the control the Chinese government, and it, to me, it screams out with national security concerns."
Chew will be making his first appearance before Congress as TikTok faces an ongoing security review by the Committee on Foreign Investment in the U.S. (CFIUS) – an interagency group that evaluates threats to U.S. national security posed by foreign investments or transactions. CFIUS has been looking into TikTok since 2019 and has reportedly threatened to ban TikTok unless ByteDance divests its stake in the platform's U.S. operations, according to a report by the Wall Street Journal.
TIKTOK CEO TO PLEDGE COMPANY WILL GUARD DATA FROM CHINESE ACCESS, IN BID TO STAVE OFF BAN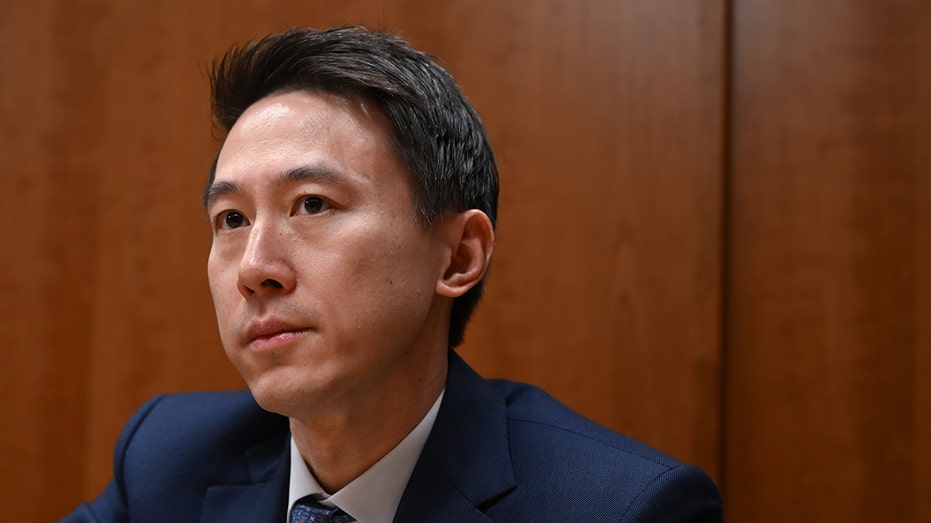 TikTok CEO Shou Zi Chew will testify before the House Energy and Commerce Committee as the social media platform faces a potential U.S. ban or divestment from its China-based parent company. (Matt McClain / The Washington Post via Getty Images / File / Getty Images)

The Biden administration is currently implementing the removal of TikTok from government devices as required by a bipartisan law enacted last year. New legislation introduced by Sens. John Thune, R-S.D., and Mark Warner, D-Va., known as the RESTRICT Act, would give the federal government the ability to investigate and potentially ban problematic technology products like TikTok that have ties to adversarial countries including China, Cuba, Iran, North Korea, Russia and Venezuela.

Thune noted the connections between TikTok's parent company ByteDance and the Chinese government as being deeply troubling: "I'm particularly concerned about TikTok's connections to the Chinese Communist Party, which repeatedly spies on American citizens. It was reported last year that China-based employees of ByteDance have repeatedly accessed non-public data about users in the U.S. despite TikTok saying to the contrary."

SENATE'S BIPARTISAN RESTRICT ACT WOULD BLOCK TECH PRODUCTS LIKE TIKTOK MADE IN ADVERSARIAL COUNTRIES
TikTok is facing a new legislative push from Congress that would allow the federal government to investigate and potentially ban technology products made in adversarial countries like China. (AP Photo / Damian Dovarganes / File / AP Newsroom)

TikTok's data collection practices have been frequently cited as a threat to Americans' privacy. The app not only collects the imagery and objects contained in the short-form videos made by users but also biometric identifiers such as faceprints and voiceprints, activities on other websites or apps – plus the content of messages: when they're sent, received, read and by whom. Taken together, the data helps TikTok target videos, ads and political messages based on a user's habits and interests.

ByteDance is reportedly under investigation by the Justice Department and FBI for using the app to surveil U.S. journalists as at least two China-based employees at the company tried to use the data to determine which of their colleagues was leaking information to the press. The incident was first reported by Forbes.

FBI DIRECTOR WRAY TESTIFIES CHINESE-OWNED TIKTOK HAS POWER TO 'DRIVE NARRATIVES,' 'DIVIDE AMERICANS'
The TikTok app collects data related to the content of messages, images and scenery, plus biometric data, in users' videos. All of this data helps the app tailor its algorithm for content and ads – including political messages – to users' interests. (AP Photo / Kiichiro Sato / File / AP Newsroom)

In written testimony posted on the House Energy and Commerce Committee website, Chew touted TikTok's "Project Texas" initiative under which it plans to form a special subsidiary called TikTok U.S. Data Security Inc. to oversee the protection of American users' data and the TikTok U.S. platform under a contract with Oracle. Project Texas is TikTok's attempt to satisfy the concerns raised by CFIUS and avoid a U.S. ban or the platform's divestment from its China-based parent company.

"I steadfastly believe that all concerns that have been raised have solutions. Bans are only appropriate when there are no alternatives," Chew wrote. "We do not believe that a ban that hurts American small businesses, damages the country's economy, silences the voices of over 150 million Americans, and reduces competition in an increasingly concentrated market is the solution to a solvable problem."

GET FOX BUSINESS ON THE GO BY CLICKING HERE

He added that "divestment doesn't address the fundamental concerns that I have heard, as a change in ownership would not impose any new restrictions on data flows or access."

Chew sought to emphasize in his written testimony that TikTok and its parent company are not beholden to the Chinese government, writing, "Let me state this unequivocally: ByteDance is not an agent of China or any other country."

Fox Business' Chris Pandolfo and Danielle Wallace contributed reporting.

Source: Read Full Article