House Dems introduce bill to tighten rail safety measures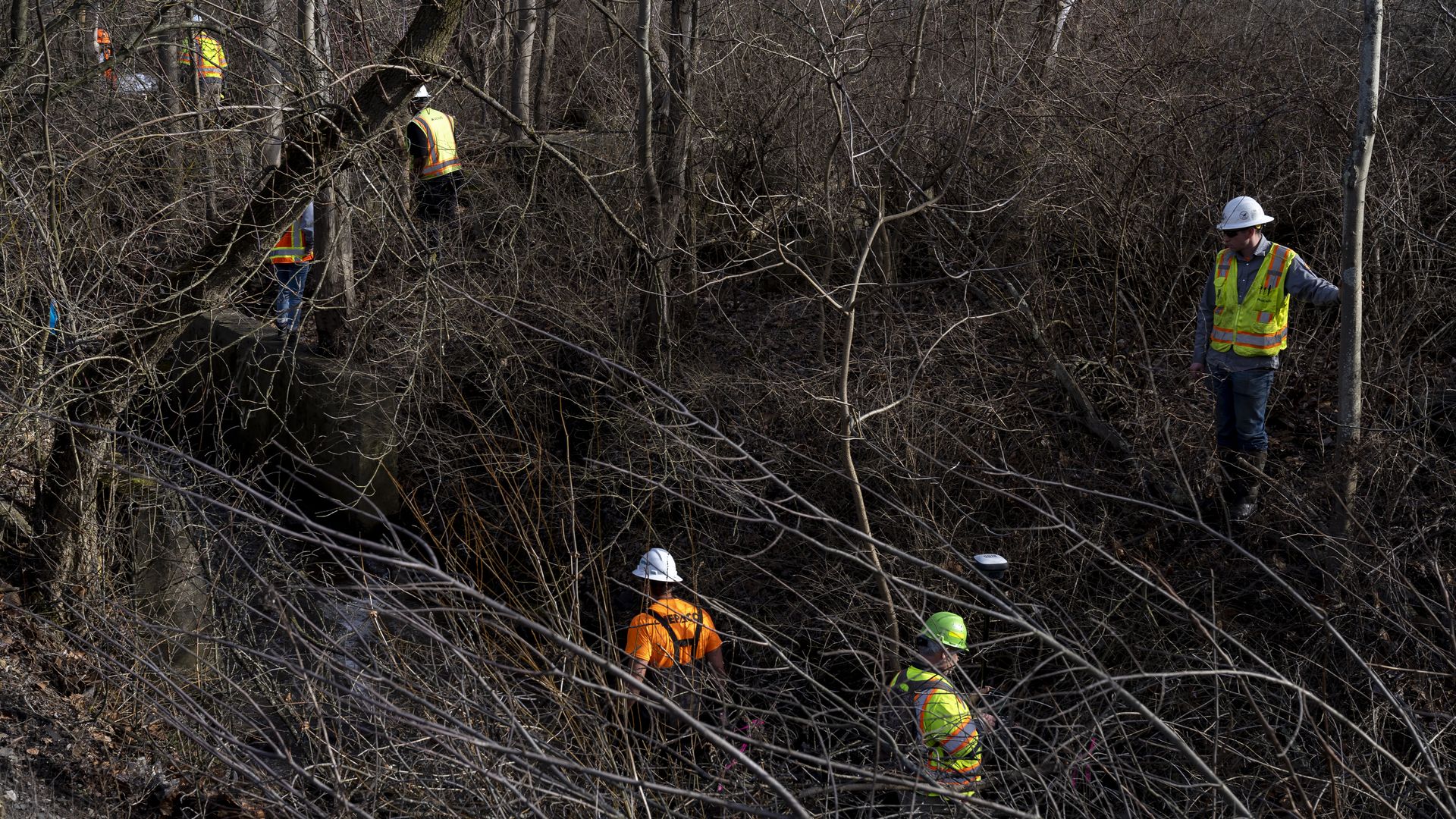 Ohio EPA and other clean-up crews work in Sulphur Run creek on Feb. 23 in East Palestine, Ohio. Photo: Michael Swensen/Getty Images
Reps. Ro Khanna (D-Cal.) and Chris Deluzio (D-Pa.) on Tuesday introduced a bill that seeks to tighten safety measures for trains carrying hazardous materials and to ensure they are properly classified.
Why it matters: This is the first bill to be put forth by Congress after the derailment of a Norfolk Southern train carrying hazardous materials in East Palestine, Ohio earlier this month.
The derailment forced Norfolk Southern to release and burn hazardous contents from some of the train cars, prompting mounting concerns over health risks and toxic effects from the crash.
The train that derailed in East Palestine included 11 tank cars carrying hazardous materials, but it wasn't classified as a "high-hazard flammable train" and therefore wasn't subject to stricter regulations.
State of play: The legislation seeks to broaden the definition of what constitutes a "high-hazard flammable train," lowering the threshold to meet the classification and ensuring that trains carrying hazardous materials are subject to stricter federal safety regulations.
High-hazard flammable trains are not allowed to travel faster than 50 miles per hour, use special cars when transporting hazardous materials cross-country, and have newer braking equipment, the New York Times reports.
While the Transportation Department currently applies these rules to trains with hazardous materials in at least 20 consecutive cars — or 35 cars total — the legislation proposed by Khanna and Deluzio would lower the threshold to one rail car.
The legislation would also expand the list of hazardous substances and require rail carriers to report to the National Response Center, State officials, and local officials within 24 hours of when a train carrying toxic chemicals derails.
The big picture: Ohio Gov. Mike DeWine (R) called on Congress earlier this month to review how high-hazardous trains are classified.
"This is a moment where we need political leaders from all parties and from across the country to speak out loudly for better safety regulations and to acknowledge what so many Americans are going through," Khanna said in a statement.
"For too long, railroads have prioritized profit ahead of public safety and their workers, and it is time to regulate the railroads," Deluzio said in a news release. "This legislation is an important step forward to finally strengthen our rail regulations and improve rail safety, he added."
Go deeper: What we know about the Ohio train derailment
Source: Read Full Article