Sen. Joe Manchin apologizes after trashing 'open press system' on Davos panel
video
Manchin apologetic for slamming 'open press system' at Davos panel
Sen. Joe Manchin, D-W.V.,  told FOX Business' Maria Bartiromo that he is 'totally' apologetic for saying the 'open press system' is a 'problem' while speaking on a Davos panel. 
After smearing the "open press system" on the Davos World Economic Forum stage, Sen. Joe Manchin, D-W.V., has apologized for his comments and not fully explaining his thinking on "Mornings with Maria" Wednesday.
"I totally apologize because I didn't explain it properly, that was the problem," Manchin told host Maria Bartiromo in Davos, Switzerland. "The open press that we have, which is absolutely the bedrock for democracy, okay? But there's so much access."
On Tuesday, Manchin was joined alongside several American politicians at the annual global event in Davos. They were asked by the moderator, who cited the 2022 midterms that did not result in a red wave as expected, whether they believe political attitudes in the U.S. are changing, particularly when it comes to polarization.
"Let me just say real quick – the American people, basically, I think are tired and very, very upset with how the operations are… going whether it could be in extreme states or extreme Congress that we have," Manchin had chimed in. "The problem that we have is the open press system and basically all the platforms. So if you're able to have five platforms, social platforms, you can basically personify the extremes as somebody who is extremely right or extremely left, and it seems like that is the majority speaking. They're not the majority, but they're basically driving everybody to make a decision."
ILLINOIS GOVERNOR TO WORLD ECONOMIC FORUM: U.S. INFLATION WON'T HIT TARGET 'FOR A VERY LONG TIME'
Manchin clarified that America is home to a "very good, competent press," but social media platforms can become echo chambers that reward "bad behavior."
Sen. Joe Manchin, D-W.V., called the "open press system" a "problem" in a U.S. political panel at the World Economic Forum in Davos, Switzerland. (AP Newsroom)

"It used to be where something was said, and it was accepted and that was it," Manchin explained. "Now it's said to where, you can find a social media platform, you can find somebody to agree with you. And pretty soon, the hate comes out."

Critics slammed Manchin's comments as an attack against the First Amendment.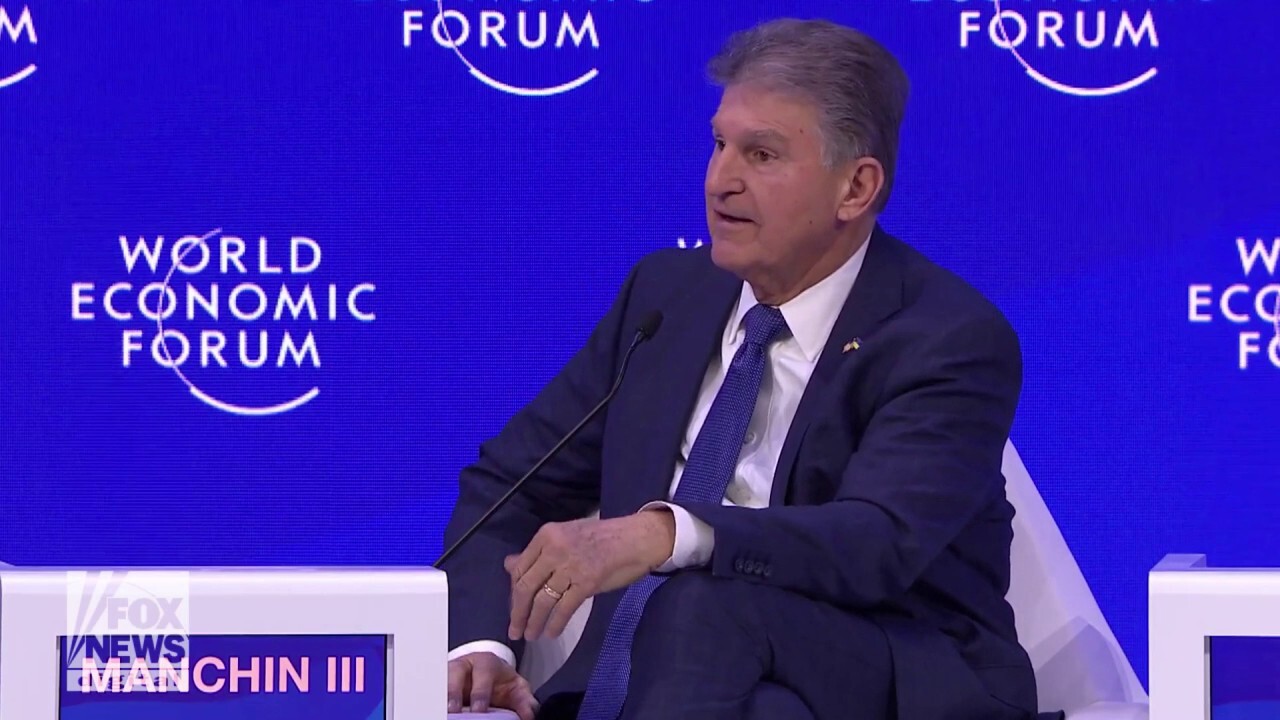 video
Sen. Joe Manchin swipes 'open press system' at the World Economic Forum
At the World Economic Forum in Davos, Switzerland, Sen. Joe Manchin, D-W.V., slammed the "open press system" in the U.S. during a panel discussion with other American politicians. 

"One of the (many) reasons we must focus more on Davos is because our political & financial elite hunger for validation from the global elite. Just as yesterday's Marxist academic theory becomes today's dogma, so too does a Davos panel today become tomorrow's regulatory framework," former Trump adviser Stephen Miller tweeted.

"Dude needs to be run out in 2024," conservative commentator Ned Ryun reacted.

GET FOX BUSINESS ON THE GO BY CLICKING HERE

Manchin further applauded the press' ability to dissect issues like the Twitter Files or Hunter Biden's laptop, but again clarified he was taking a swipe at social media extremism.

"We're trying every day to make it a more perfect [union]. It is not perfect, but we have the best in the world. And the bottom line is you've got to believe, you've got you know, the deniers are not going to basically be able to control the process and people," Manchin told Bartiromo. "Enough is enough. Let's work with what we have. Let's make sure we make it better. Let's make sure we hold people accountable and responsible for their actions."

READ MORE FROM FOX BUSINESS

Fox News' Joseph A. Wulfsohn contributed to this report.

Source: Read Full Article